The types of boat anchors vary, although all must hold a boat in one location relative to the bottom. Size is determined by the length and weight of a boat. The shape is chosen for its holding power in different conditions: sand, rock, mud, coral, or grass. The waters where they will be used are a consideration also, such as a shallow lake vs. deep water affected by tide and currents.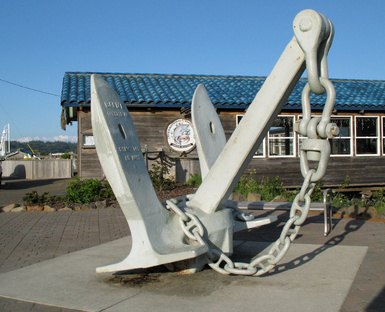 (anchor image by pearlguy from Fotolia.com)
Danforth: The Danforth is popular because of its low price, light weight, ease of storage, and holding power per pound.
Plow: The CQR brand is the standard for all plows. This is an adaptable anchor for most bottoms as its crown pivots allowing a boat to swing without affecting the hold.
Bruce: Simple in construction, the Bruce is the shape of an open claw. Because of its three prongs, it can tip in any direction when it reaches the bottom and then dig itself in.
Rocna: New Zealander Peter Smith developed a new anchor in 2004 addressing all the problems of older styles. It is one piece with a revolutionary roll bar bridging the tips of the wedge-shaped plow.
Special purpose: Kedge, for kedging off when aground, and Mushroom, usually used as a permanent mooring.
anchor image by michael langley from Fotolia.com
Danforth: This thin-fluked anchor lies flat on deck and is easy to stow in lockers. It can flip over and disengage the flukes. Poor holding on grass bottoms.
Plow: The CQR (secure) requires a roller platform on the bow. Pivot at the bottom of the shank.
Bruce: Simple in design, the Bruce depends on its burrowing power. It brings up less mud than other designs.
Rocna: It is strong, single piece, digs deep and doesn't roll. It is expensive. If stuck, a grappling hook can grab the roll bar to pull it up.
an isolated anchor image by Ivan Hafizov from Fotolia.com
Admiralty: Accepted by the Royal Navy in 1846. It is viewed as a "classic" anchor.
Stockless: In 1866, a stockless anchor that could be drawn up to the hawsepipe was in use in England. Frederick Baldt patented his version in1897. The"'Baldt" is used for U.S. Navy ships and ocean liners.
Danforth: Designed in 1939 by R. S. Danforth, it was used extensively in WWII. With the stock positioned at the base of the flukes, it harks back to Chinese designs of 4000 years ago.
CQR: Patented in Scotland in 1938, the hinged design prevents break-out in wind shifts. It is known for superior holding power.
Since the 1940s, over a hundred new types have been patented as the search for a better design continues.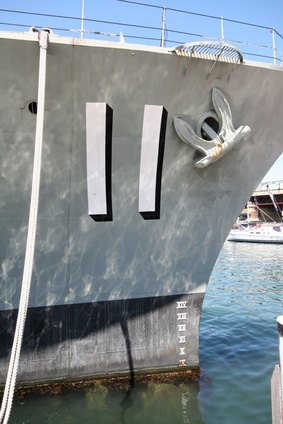 war ship markings image by Xavier MARCHANT from Fotolia.com
When choosing an anchor, look for one with a hole at the crown to attach a trip line. This line allows the operator to move directly over the anchor and pull it free from a fouled bottom with an upward thrust.
Most owners who cruise often carry more than one type of anchor, usually a heavy plow type for strength and a Danforth for convenience.
An anchor is the most important safety device a boat can carry.
sail boat at anchor image by Wimbledon from Fotolia.com
Promoted By Zergnet