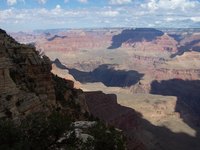 Tours of the Western United States often include top attractions like the Grand Canyon, national parks and cities like Las Vegas, Los Angeles and San Francisco. These vacations can focus on the great outdoors, adventure travel and camping, or for city adventures, train trips and more luxurious accommodation, or a mix of the two.
TrekAmerica
TrekAmerica offers many multi-activity tours in the western United States for travelers looking for outdoor adventures at sites like the Grand Canyon and Yosemite Park, and trips to major cities, such as San Francisco, Las Vegas and Los Angeles. Accommodation on tours ranges from camping facilities to more comfortable lodging with options available for all budgets. TrekAmerica tours vary, with some aimed at families and others for travelers ages 18 to 38, while some tours are for people of all ages. Activities available on tours include white water rafting, swimming, horseback rides, hiking and walks through the Rockies, kayaking, and casino visits in Vegas, to name only a few. Some activities are optional and cost extra. Tours run from four days to up to four weeks.
TrekAmerica Travel Limited 16/17 Grange Mills Weir Road London SW12 0NE United Kingdom 1-800-TREK-USA trekamerica.com
Insight Vacations
Insight Vacations' "Wonders of the American West" tour provides luxury coaches and first-class accommodation to travelers looking to explore the western United States. Leaving from Denver after a welcome drink reception, the 10-day tour finishes in Las Vegas and includes stops at Lake Powell, Grand Canyon National Park, and Mesa Verde National Park, among other sites and attractions. Dinner is provided on five different nights and a full breakfast is included every morning on tour. Extra excursions are also available for an additional fee, such as a jet boat ride on the Colorado River. The maximum group size on this tour is 40 people and always includes expert advice and leadership from a professional tour director. Airport transfers are included in the tour price for the first and last day of the tour.
Insight Vacations 888-680-1241 insightvacations.com
Tauck Travel
Tauck's tours of the western United States includes family trips and land journeys to destinations like New Mexico, Arizona, Grand Canyon, Las Vegas, vineyards, Yellowstone National Park, Lake Powell, Red Rocks and California. Activities on these tours can include horseback riding, hikes, wine tastings, cruises, train rides, and time to yourself to explore new destinations on your own. Accommodation (all with private baths), most meals and tips are included in the tour price.
Tauck World Discovery 10 Norden Place Norwalk, CT 06855 P.O. Box 5020 800-788-7885
tauck.com