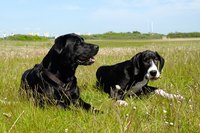 Noxious weeds, invasive species of plants that are non-native and in some way harmful to the environment, often have nice-sounding or funny names. Some of these names may make very good names for dogs because they paint a mental image that evokes an attitude or appearance. To pick a weed name for a canine, imagine calling out the name and picture what type of dog would come running.
Thistle
The word "Thistle" rolls prettily off the tongue. Thistles--even the nastiest weed of them all, the star thistle—have lovely yellow, pink, white and even crimson flowers that are fluffy and perky, and smell fairly nice. Poodles, and their designer dog offshoots—cockapoos, affenpoos, bernedoodles, bossi-poos, cadoodles, and doxiepoos to name a few—are all fluffy and smell nice if bathed regularly. Poodles are smart and perky; their derivative breeds share these characteristics. Thistle is not a gender-specific name, so apply it to either sex.
Spurge
Spurge isn't a particularly unattractive weed, but its name certainly is; it sounds like a term for snoring or flatulence. Dogs with scrunched-up faces have problems in both these categories. They snore because their noses are "smooshed" in. They are gassy because they gulp air when eating and drinking. Known as brachycephalic dogs, these breeds include: Old English bulldog and other bulldogs, pugs, Boston terriers, boxers and shih-tzus. Use this name for male dogs; it's not ladylike.
Poison Ivy
Poison Ivy is a very pretty weed, but makes people scratch like dogs. Since Drew Barrymore seduced Tom Skerritt in the movie "Poison Ivy," the term has acquired naughty female connotations. All dogs are good dogs with good "parenting," but some are just naturally mischievous: Brussels griffons for instance. These spunky, wiry little pranksters became famous in another movie, "As Good as It Gets," in which the canine star endeared himself to a reluctant Jack Nicholson. Almost any pretty, prank-loving female terrier breed would answer to Poison Ivy, but only if she wanted to.
Kudzu
Kudzu has taken over the eastern states from Maryland to Florida; its vines grow up to 12 feet a day and can literally tear apart old wooden buildings. It's a tough weed with a tough name. Pit bull tough. Rottweiler tough. Bull terrier tough. Of course, these breeds are only as tough as their owners make them, but they can do some karate moves on other dogs if provoked. Kudzu sounds like a karate move. Use it for muscular, loyal boy dogs only.
Tumbleweed
"I'm a roaming cowboy riding all day long...Drifting along with the tumbling tumbleweeds." Bob Nolan made a very unpleasant weed popular with this song; the lyrics, and the nature of tumbleweeds, epitomize cowboy dogs. These are the breeds that work on ranches and farms and can go all daylong, rolling from one responsibility to another. They include herding dogs like Australian cattle dogs, shepherds and sheepdogs, and even corgis and pulis. Dogs that guard the flock and live free and wild with their charges fit this category as well: Anatolians, Great Pyrenees and komondors, for example. It's not a gender-identifying name, so give it to a girl or boy dog.