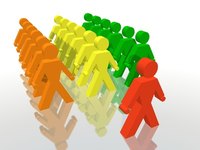 To be an effective and respected leader, you must develop good habits in dealing with people, both peers and subordinates. Effective leadership means being able to react quickly in pressure situations. Study these seven habits of effective leaders and practice them until they become second nature. Your confidence as a leader grows when you can apply effective leadership principles immediately when they are needed.
Listen
There is a difference between hearing people and listening to them. You can hear someone without really listening. When you listen, you comprehend what people say and apply their input to your response. An effective leader always listens, whether she agrees with what is being said or not.
Include Others
To lead you need to learn how to include other people in your project planning and execution. You cannot lead when you do things on your own. Show confidence in those around you and you will find that you can get maximum productivity from them.
Inspire Others
Effective leadership involves the ability to motivate and inspire people to action. You need to find out what people are looking for in a situation and use that as a catalyst to inspire them to follow you.
Make a Commitment
Leaders make examples of themselves by committing to their cause or project. By remaining committed to a cause, a leader gives others a model to follow, and that can be a powerful way to inspire loyalty and passion.
Display Honesty
A leader is honest with the people whom he relies on to get the job done. There may be points at which a leader has to sacrifice the truth to motivate someone to do something the leader knows can be done, but in the overall scheme a leader must present the truth to remain respected.
Show Foresight
Leaders have foresight, which can also be described as having vision. When a group sets out on a project, all of them may not completely understand how to reach the goal. An effective leader knows the result he wants, and he understands the process that needs to be taken to get that result.
Learn
A good leader understands that she does not know everything there is to know and that learning is essential to personal and professional growth. As a leader you should attempt to learn something new every day to broaden your knowledge base and to let others know that you are open to new experiences.