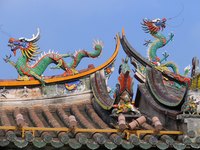 Open since 1939 and designed in traditional California adobe Mission style, Union Station is a key hub for Amtrak as well as L.A.'s MetroLink and Metro Rail services. At the station, make sure to stop by Traxx restaurant, which combines Spanish colonial, Art Deco and modern streamline architecture, and serves classic American lunch and dinner entrees, along with appetizers and cocktails.
Chinatown
Less than a 10-minute walk from Union Station, L.A.'s Chinatown takes up approximately one square mile. Most of its shops and restaurants are located along Broadway, Hill Street and Spring Street. Here you'll find souvenir stores, boutiques, herbalists, bookstores, markets and butcher shops. Chinatown offers more than 100 restaurants, including the moody Hop Louie. It's been open since 1941 and looks like it's straight out of a Raymond Chandler novel. The lighting in dim, the jukebox is going and the atmosphere is decidedly gritty. On the first Saturday of every month, the Chinatown Business Improvement District offers "The Undiscovered Chinatown Tour," which unveils the neighborhood's history, treasures and unique shops.
Chinatown Business Improvement District 727 N. Broadway, Suite 208 Los Angeles, CA 90012 213-680-0243 chinatownla.com
Philippe the Original
Established in 1908 and in its current location since 1951, this beloved old-school eatery claims to have invented the French dip sandwich after a cook accidentally dropped a roll in a vat of beef gravy. Today the cafeteria-style Philippe's, less than a five-minute walk from Union Station, serves French dips made from beef, lamb, pork, turkey and ham. Its lunchroom fare includes 14 different soups, chili, salads and even pickled eggs, beets and pig's feet. With its big storefront windows, it's also one of the best spots in town to people-watch.
Philippe the Original 1001 N. Alameda St. Los Angeles, CA 90012 213-628-3781 philippes.com
El Pueblo de Los Angeles Historical Monument
A few blocks from Union Station, this 44-acre park houses the city's first church and the 1818 Avila Adobe, the oldest standing house in L.A. Known as the birthplace of Los Angeles, the historic area is home to festive Olvera Street. It features 27 historic buildings in a traditional Mexican-style plaza. Shop for handcrafted leather, jewelry and clothing; dine on ceviche or carne asada. Drop by the 1884 Plaza Firehouse, the city's first building designed to house firefighters. The building is now restored and converted into a museum. Volunteer docents lead free guided tours Tuesday through Saturday.
El Pueblo de Los Angeles Historical Monument 845 N. Alameda St. Los Angeles, CA 90012 213-680-2525 olvera-street.com
Grand Central Public Market
Open since 1917, L.A.'s oldest open-air market is 1.5 miles from Union Station and is located on the first floor of the Homer Laughlin Building. This structure once housed an office for architect Frank Lloyd Wright and serves as the focal point of L.A.'s Historic Core District. Today you'll find close to 40 merchants that offer fresh fruits and vegetables, exotic spices, meat, seafood, candies and even clothing. In the food court grab a Cuban sandwich, a bowl of Chinese noodle soup or a pupusa, a Mexican flatbread stuffed with cheese, beans and meat. From Union Station, hop on the Red Line subway toward North Hollywood and get off three minutes later at Pershing Square.
Grand Central Public Market 317 South Broadway Los Angeles, CA 90013 213-624-2378 grandcentralsquare.com