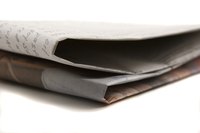 Marketing is done through the media. A marketing medium is the method in which a company gets its message out to its target audience. The most complicated part about marketing media is that every company's marketing needs are different. Where television might work well for one company, it might not reach the client base of another. For example, if a computer company is trying to target information technology executives, trade magazines might work better because the target audience reads these publications for details that television or another medium would not be able to give.
Newspapers
Newspapers carry information in a format that appeals to millions of people. Readers looking for a specific product or service may pore over the newspaper classifieds sections. Marketing campaigns can find success by placing advertising in popular sections such as sports or local news.
Magazines
Hundreds of magazines publish monthly in the U.S., geared toward a target audience. Magazines have become more focused on a particular niche of readers, and a magazine can be very effective at helping you reach a targeted demographic.
Television
Television can be very expensive as a marketing medium, depending on how many people you want to see your marketing and what time you would like it to be seen. Use the market research of independent firms to determine the best way to reach your target audience using television. If used properly, television can be an effective marketing medium.
Internet
Viral marketing on the Internet can reach millions of people at a time. Social networking websites allow companies to create profiles and reach out to people all over the world. But social networking websites can have a short lifespan, putting at risk the time spent developing a following if users find another site they prefer.
Companies must have a website that stands out as the go-to site for their markets, providing a reliable source of information for vendors, and current and future customers. The Internet makes it easier to do business and reach an audience, but it also requires time and the proper tools to do the job right.
Radio
Radio can be a complicated marketing medium to use because if people listen to the radio all day at work, then it becomes background noise and your message may not be heard. But people listening to the same station on the ride to and from from work may hear your message and listen. Examine your target market to determine whether investing in radio advertising would be beneficial for your company.