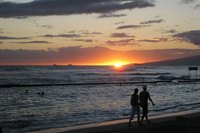 After the wedding, the fun begins with the honeymoon. Finding a romantic location surrounded by candle-light dinners and a tropical seaside can be stressful. If you live in the United States and want to stay close to home, consider visiting a Florida resort.
Florida offers warm weather and romance packages for honeymooners. An all inclusive resort offers a selection of meals and activities included in the price of your stay. Resorts offer everything on site for couples who don't want to venture away. Most meals and activities such as golf and tennis are offered on the property, so a car is not required. An inclusive honeymoon resort in Florida can ignite romance and memories for a lifetime.
LaPlaya Beach and Golf Resort
LaPlaya Beach and Golf Resort is a luxury resort that sits between the Gulf of Mexico and Vanderbilt Bay. White sandy beaches, elegant hotel rooms and fine dinning creates a magical setting for romance. The 18-hole golf course on-site was designed by architect Robert Cupp, and is known as one of the finest courses in Naples.
The Romance Package offers a half day rental for your very own private cabana, a $200 resort credit for two 50-minute massage treatments from SpaTerre and a $130 resort credit for dinner for two at Baleen.
LaPlaya Beach & Golf Resort 9891 Gulf Shore Drive Naples, FL 34108 239-597-3123 laplayaresort.com
Little Palm Island Resort & Spa
Little Palm Island Resort and Spa is a five-acre private island in the Florida Keys. The resort is for adults only, with a minimum check in age of 16. The suites are arranged as individual bungalows with thatched roofs. Enjoy peace and romance with no televisions, radio, or alarm clocks in any of the suites. This location offers the ultimate in luxury and romance.
The six-night honeymooner package begins with a personal car pick-up from the airport to bring you to the resort. A welcome bottle of champagne is offered; breakfast, lunch and dinner are provided daily. The honeymoon package also includes a $300 SpaTerre credit per person for any type of spa or massage service. Water sport amenities include one sunset sail and one snorkel trip per person. If you enjoy fishing you will love the half day backcountry fishing trip.
Little Palm Island Resort & Spa 28500 Overseas Hwy Little Torch Key, FL 33042 800-343-8567 littlepalmisland.com
Naples Grand Resort
Naples Grand Resort offers a cosmopolitan atmosphere in Naples. The resort is a member of the Waldorf Astoria Hotel Collections. The white sandy beach overlooks the Gulf of Mexico, for a romantic walk along the shore.
The Romance Southwest Florida Vacation Package offers a check-in welcome with sparkling wine in your room. Full American breakfast from room service, or in the spectacular Aura Restaurant, Spressi, Palm Terrace Grill or Paradise Grill on-site. Fitness facilities and steam rooms are available. A complete wedding package can be added for an all inclusive celebration on the beach.
Naples Grand Resort 475 Seagate Drive Naples, FL 34103 888-722-1267 naplesgranderesort.com