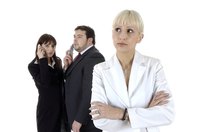 Every business that has employees must have an Equal Employment Opportunity (EEO) plan. The guidelines of this plan are set out by the Equal Employment Opportunity Commission of the United States government. It is a set of laws that protect employees and applicants against discrimination. Another part of an EEO plan is the record-keeping procedures.
EEO Poster
One of the EEO plan requirements is putting up a "Equal Employment Opportunity is the Law" poster in a common area where every employee or applicant can see and read the poster. These posters are supplied by the EEOC and come in English, Arabic, Chinese and Spanish. The employer is required to post the language that is spoken by most of their employees and should have posters in several languages.
Discrimination
The EEO plan must explain what type of discrimination is forbidden in the workplace. Employees cannot be discriminated because of color, race, religion, sex, age, nationality, disability or genetic information. Along with the explanation should be the investigative and disciplinary procedures used when a discrimination complaint is filed.
Harassment
Eliminating harassment in the workplace is another requirement of an EEO plan. In the plan, the company must explain that managers or co-workers are not to harass others because of their race, color, etc. This includes the filing procedures for someone who feels as though they have been harassed. Along with the filing procedures, the company must show the investigative procedures and punishment when harassment is reported.
Workplace Accommodations
An EEO plan must explain what right each employee has when it comes to accommodating an employee's religious beliefs or disability. Employees cannot be denied certain benefits, work schedules or access to certain areas because of their religion or disability.
Training
The training of each new employee and the annual training of each current employee is a requirement of an EEO plan. In this plan, a company must show the training procedures of each employee along with the documentation used to train them. Each employee is required to go through EEO training as part of their orientation.
Documentation
One of the main requirements of an EEO plan is the record-keeping procedures. In the plan, the company must explain what records need to be kept, even if a complaint has not been filed against them. If a complaint is filed against the company, the plan must outline the procedures utilized to resolve the complaint and the actions taken.