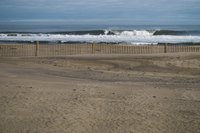 In 2012, the American Planning Association-New Jersey Chapter named Perth Amboy a "great place," noting its bustling waterfront along the Raritan River and Arthur Kill, a region teeming with sailboats, promenades, seafood restaurants and butterfly and hummingbird gardens. That same year, however, the city agreed to cleanup efforts after a U.S. Environmental Protection Agency report raised concerns about high levels of sewage and various pollutants in the surrounding waters. While you may not wish to take a swim in Perth Amboy, you'll find scores of top-rated beaches scattered throughout the Garden State and just a short drive away.
Surfin' USA
Just 45 minutes south of Perth Amboy is the town of Manasquan, home to a mile of sandy beach along the Atlantic Ocean. New Jersey Monthly named Inlet Beach the state's best spot for surfing, noting its late-summer waves, some of which peak between 15 and 20 feet. Additional perks in Manasquan include Elks Beach, a site that caters specifically to the physically handicapped with its wooden platforms on the sand, and Softball Beach, an area reserved for such sports as volleyball and wiffle ball. New Jersey Monthly also cited Mantoloking as one of Jersey's top beaches. Based 50 minutes south of Perth Amboy, the barren stretch of Atlantic coastline provides excellent surf conditions primarily due to the lack of jetties. From mid-June through mid-September, all visitors are required to purchase a badge before entering the beach.
Grown-Up Time
It's best to leave the kids at home if you're heading to Gunnison Beach, 45 minutes east of Perth Amboy and named best nude beach by New Jersey Monthly. Nestled on the northern most point of Sandy Hook, where the Atlantic Ocean meets Lower New York Bay, the 2-mile, clothing-optional stretch of sand offers sweeping vistas of Brooklyn and downtown Manhattan. New Jersey Monthly also cited Belmar as the beach with the best party atmosphere. Set 40 minutes south of Perth Amboy, the adult-friendly landscape includes an oceanfront boardwalk dotted with lounges, bars and restaurants with live music and dancing.
Family Fun
Touted by the Travel Channel as one of the Jersey Shore's best beaches, Asbury Park has plenty on hand for kids and adults alike. Just 30 minutes south of Perth Amboy, the beach's bustling boardwalk includes a small splash pad, miniature golf course and casual food stands serving everything from ice-cream to hot dogs. Many of the boardwalk's shops and restaurants are inside the Grand Arcade, an indoor pavilion that often hosts summer concerts. The small borough of Point Pleasant Beach is just 40 minutes south of Perth Amboy and was highlighted by New Jersey Monthly as the Garden State's best beach for family fun. Rent bikes, beach chairs and umbrellas for a day of fun in the sun at Jenkinson's Beach. Jenkinson's mile-long boardwalk is an outdoor playground lined with batting cages, miniature golf courses and arcades filled with games. There's also an aquarium and amusement park outfitted with such carnival rides as a carousel, bumper cars, coasters and tilt-a-whirls.
Quiet Retreat
The narrow barrier island of Long Beach Island is about an hour from Perth Amboy. In 2014, noted beach expert Stephen Leatherman, director of the Florida International University Laboratory for Coastal Research, stated that the 18-mile stretch had the best conditions for swimming in New Jersey. Known as "Dr. Beach," Leatherman noted the water's clarity and warm temperatures, which sometimes reach 80 degrees Fahrenheit. Soak up views of the water by climbing all 217 steps to the top of Barnegat Lighthouse, tucked away on the island's northern tip. Forty-five minutes south of Perth Amboy, Spring Lake was named one of Jersey's best beaches by the Travel Channel, in part due to its 2 miles of quiet. Bury your toes in the sand as you soak up the sights of palatial beachfront homes or take a leisurely stroll down the state's longest non-commercial boardwalk. New Jersey Monthly also dubbed the beach one of the state's best upscale beaches.