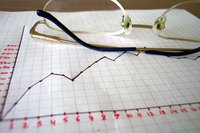 Inflation is the diminishing of purchasing power by consumers due to the rising costs of goods and services. Inflation simply means that a consumer's ability to purchase goods and services decreases as costs rise without a complementary rise in the consumer's income.
There are two types of inflation: monetary inflation and price inflation. Monetary inflation is a rise in the amount of money in the economy--the more money in the economy, the less value money holds. Price inflation is a rise of prices for goods and services.
Decrease in purchasing power
During an inflationary period, low-income people are the first in the economy to experience limits on purchasing power. Because the dollar is worth less in an inflationary cycle and low-income people are a part of a fixed-income group, their ability to purchase goods and services diminishes as prices rises.
An example would be staples such as groceries. During inflationary cycles, low-income people are not able to make purchases they normally would. As a result, demand drops. Once demand drops, grocers, grocer suppliers, and farmers limit their production. Because there is less supply, the costs rise.
Limited employment opportunity
During inflationary cycles, companies faced with falling demand will limit production. The downturn in production leads to the need for few unskilled workers, and low-income people, typically not having an advanced education, are among the first of the workforce to feel the effects of inflation through their place of work.
Credit
Low-income people often turn to credit as a means of making necessary purchases they cannot afford as prices rise. Because of the exaggerated use of credit for purchases, low-income people become overextended on their credit and reach credit limits faster. What follows is an inability to make monthly payments, and as a result, fees are charged and interest rates rise.