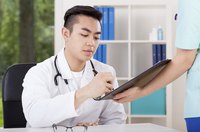 Medicare tightened the physician signature requirements with the Improper Payments Elimination and Recovery Act of 2012. Following the requirements helps a doctor or facility avoid Medicare billing issues if Medicare catches the mistakes.
Valid Signature
Provided or ordered services covered by Medicare must have the signature of the practitioner who did the ordering. Signatures cannot become added to records after the fact. Fix a missed signature on a medical record by having the record-writing practitioner add an addenda to the record. Orders without signatures will need signed process notes filed with Medicare at the same time as the order. Process notes should have specific information regarding what was ordered.
Legible Signature
Medicare requires legible signatures either handwritten or rendered electronically. Stamping a signature is only permitted if the practitioner has a physical disability that prevents writing, and Medicare will need proof of the disability. Fix illegible handwriting discovered after filing by submitting a typed signature log that has one column of typed names with spaces in the next column for handwritten signatures. A signature log should also be filed with Medicare for process notes with illegible handwriting.