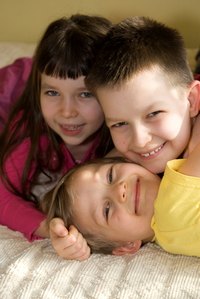 Whether your kids enjoy arts and crafts, splashing in water fountains, or just having a good time on the playground, San Antonio, Texas, has activities for all ages that won't cost a penny. History, culture and just plain fun are there for your next family outing in San Antonio.
San Antonio Museum of Natural Art
Youngsters will enjoy the exhibits at the San Antonio Museum of Art in downtown San Antonio. The museum buildings and grounds cover 15 acres and offer paintings, sculptures from both modern and ancient periods. The museum is continually changing its collections and special exhibits so there's always something new to see. In 2010, the museum offers free admission to all guests on Tuesdays from 4:00 p.m. until 9:00 p.m.
San Antonio Museum of Art 200 West Jones Ave. San Antonio, TX 78215 210-978-8100 samuseum.org
San Antonio Missions National Park
San Antonio has beautiful weather almost year-round, and some of the city's parks offer kids more than just a playground. The San Antonio Missions National Park can be a learning experience as well as an adventure for kids. This park has four historic mission buildings dating back to the early 1700s. There is a movie presentation that tells about the people of Texas in the 18th century and how the missions began. The park also has a bookstore and museum. Kids will enjoy the Junior Ranger program that includes an activity book, and those who complete the book earn a Junior Ranger badge and certificate. Admission to the park is free.
San Antonio Missions National Historical Park 2202 Roosevelt Ave. San Antonio, TX 78210 210-932-1001 nps.gov/saan
Southwest School of Art and Craft
The Southwest School of Art and Craft is a nationally recognized school that teaches art to over 4,000 students annually. The school has exhibits, a museum and art classes in ceramics, copper and other media. Children are invited to experience Saturday Morning Discovery, a free introduction to the arts. This program lasts approximately an hour, and gives kids ages five to 16 an opportunity to create projects in different art media. Instructors are present to lend a hand, and parents are required to stay with children during the program. The class is popular so reservations for the program are required.
Southwest School of Art & Craft 300 Augusta Road San Antonio, TX 78205 210-224-1848 swschool.org
The Witte Museum
Take the kids to the Witte Museum to learn about the history and culture of Texas and view educational natural science exhibits. The Witte museum offers free admission to the public on Tuesday evenings from 3:00 p.m. until 8:00 p.m. in 2010. The kids will love the dinosaur skeletons, wildlife dioramas and displays of live animals.
The Witte Museum 3801 Broadway San Antonio, TX 78209 210-357-1900 wittemuseum.org
HemisFair Park
HemisFair Park in downtown San Antonio is a good place for the family to enjoy the Texas sun. Kids' favorites include waterfalls and fountains, and an enormous wooden playground. The park also has replicas of past World's Fair structures.
HemisFair Park 600 HemisFair Park San Antonio, TX 78205 sanantonio.gov