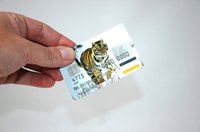 When you apply for a credit card, the lending bank will check your credit reports and your credit scores. If your reports and scores meet the lender's requirements you will be approved for credit. If you do not meet their requirements you will be denied. There are three main credit bureaus, and each holds its own version of your credit report, and credit score under your name. Prospective lenders may check all three credit bureaus or just one. There is no industry standard, and the choice of which bureau to check is left up to the lender.
Equifax
Equifax, the first of the three main credit bureaus is located in Atlanta, Georgia. They have been in business over 100 years. In addition to keeping track of consumer credit reports and scores, Equifax offers a variety of credit monitoring and identity theft protection services.
Equifax Credit Information Services, Inc P.O. Box 740241 Atlanta, GA 30374 800-685-1111 equifax.com

Experian
Experian provides credit related services to businesses in over 65 countries. While they do offer credit monitoring services to individuals, their focus is on helping businesses make lending decisions based on consumers' credit reports. Experian sells a variety of marketing services to businesses. This includes targeting consumers who have acceptable credit scores and releasing some of their information to interested businesses.
Experian / NCAC PO Box 9556 Allen TX 75013 888-397-3742 experian.com

TransUnion
TransUnion, the last of the three main credit bureaus, was founded in 1968. They hold credit records for approximately 500 million individuals around the world. Their home office is located in Chicago, Illinois.
TransUnion Consumer Solutions P.O. Box 2000 Chester, PA 19022-2000 800-888-4213

Different Bureaus, Different Information
It is unlikely that your credit reports and scores will be identical with all three credit bureaus. This is because your current lenders are not required to report your loans at all. While many lenders (especially credit card lenders) do report your existing cards to the credit bureaus, they may choose to report to one bureau, or a combination of them.
Your credit scores could be higher with one bureau than they are at another. To find out which credit bureau a lender gets your credit report from, call the lender and ask them - before you apply for credit.