Adapt a menu of foods with a Christmas theme, and kids will eat their veggies as eagerly as they consume Christmas cookies and candy. Take inspiration from common Christmas and winter symbols, including Santa, elves, Christmas trees, reindeer and snowmen. Parents, teachers and administrators should work together to make the food options as wholesome as possible so that kids can satisfy their nutritional needs instead of just catering to a sweet tooth.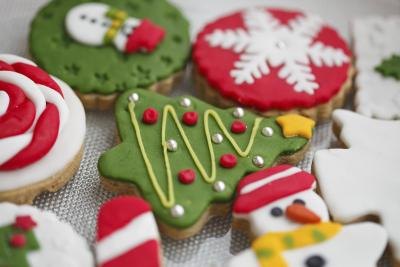 (Nikuwka/iStock/Getty Images)
A Christmas tree with pinwheel sandwiches made from green spinach tortillas provides whole grains, meat, dairy and vegetables. Roll up meat and cheese with roasted red pepper and a handful of raw spinach leaves. Stack the sandwiches in a tower starting with a large circle, slowly reducing the ring size to finish with a single pinwheel at the top. Cut out a star shape from a piece of yellow cheese to make a star for the top. For a sweeter sandwich option, make sandwiches with raspberry fruit spread and butter. Cut out heart shapes with a cookie cutter. Add a red candy nose and the heart tip and black candy eyes just below the round tops of the heart, and finish with a mini pretzel inserted between the bread, centered on each round heart top.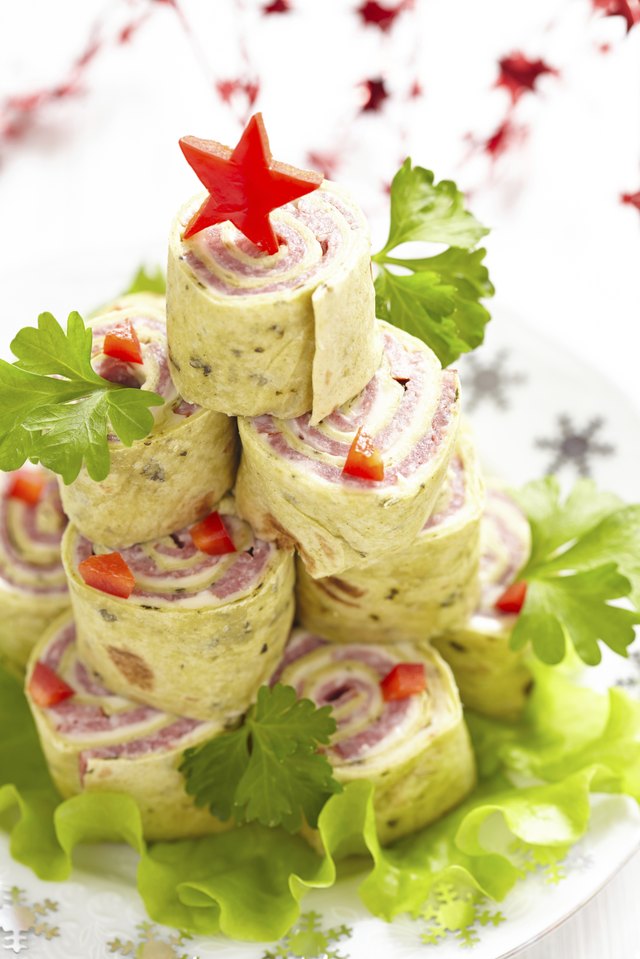 Azurita/iStock/Getty Images
It only takes a little extra prep time to arrange the food in a festive Christmas tree shape. The different foods in the tree resemble tree boughs, strands of garlands and tree ornaments. Try this with several different varieties of cheese or alternate rows of pepperoni, cheese slices and crackers to make the tree shape. For a vegetable platter, use green veggies such as broccoli and sugar snap peas for the evergreen boughs, using cherry tomatoes, pepper slices, mushrooms and other veggies for the colored decorations. Arrange cauliflower florets around the outside of the tree to make a snowy white background. Alternatively, label veggies with clever Christmas-themed names, such as carrot snowman noses, cherry tomato reindeer noses or cauliflower floret snowballs.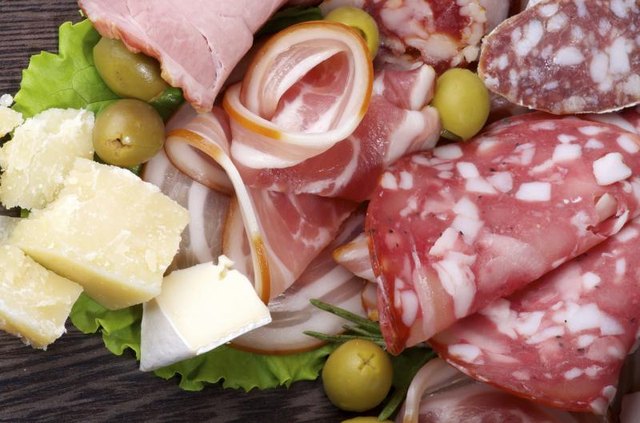 zhekos/iStock/Getty Images
Simple snack foods in easy-to-carry packaging can be eaten at the party or taken home to finish later. To make snowman popcorn cups, draw black eyes, an orange carrot nose, a black coal mouth and a corn cob pipe on a clear, plastic cup with a permanent marker. Just before the party, fill each cup with popcorn to infuse the clear container with white. Fresh, unsalted and unbuttered popcorn makes a heart-healthy snack. A basic snack mix made from cereal squares, pretzels and nuts can be given an easy Christmas makeover with the addition of red and green candy-coated chocolates and a dusting of powdered sugar to resemble snow. Serve this snack mix in colored paper bags labeled "Santa's Sack."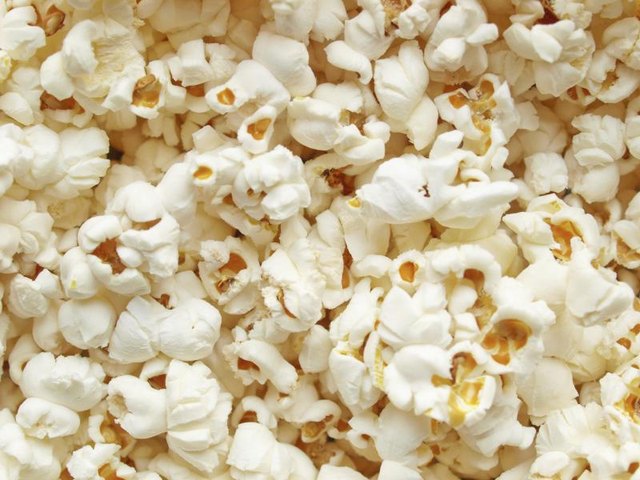 claudiodivizia/iStock/Getty Images
If there's room at the party for some Christmas-themed treats, try simple options like a graham cracker Santa or melting snowman cookies. Spread pink frosting over a square graham cracker. Place mini marshmallows close together on the lower half of the graham cracker and along the perimeter to make Santa's beard, leaving one corner free for the hat. Add black licorice for the eyes and a small, pink candy for a nose. Fill in the open corner with red frosting, pressing a small piece of marshmallow at the tip to complete the hat. Melted snowman cookies are easy to make using homemade or store-bought cookies. Drizzle runny royal icing to make a puddle on top of the cookie. Press a marshmallow into the icing before it hardens. Wrap a piece of fruit leather or a fondant strip around the base of the marshmallow to make a scarf. Draw eyes, a nose and a mouth on the marshmallow with edible markers.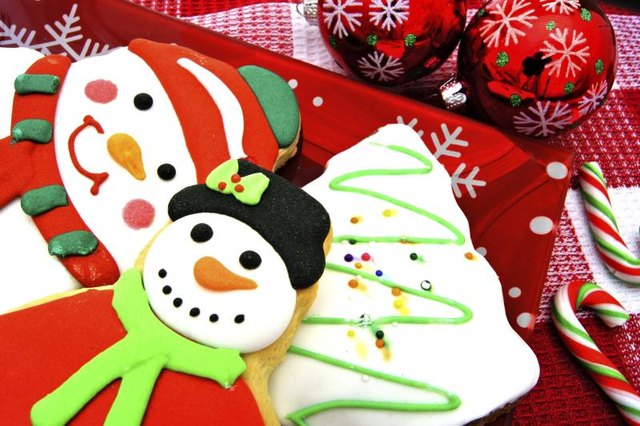 jenifoto/iStock/Getty Images
Promoted By Zergnet