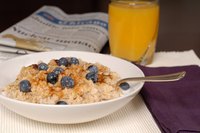 Breakfast is an important meal because if gives you that initial energy boost to begin the day and get you going. Some breakfast foods are healthier than others, and you should know which ones will be more effective in boosting your energy. Learn a little bit about some of the high energy breakfast foods to get maximum energy and avoid feeling sluggish.
Omelets
Omelets are high in protein, which will give you a lot of energy in the morning hours. You can add healthy vegetables such as broccoli, spinach and red and green peppers to provide antioxidants to boot.
Pancakes
Try making some whole wheat pancakes for a delicious energy assisting breakfast. Instead of using maple syrup, which can be packed with sugars that will give you a short boost and cause you to crash, use all natural fruit marmalade or jam.
Oatmeal
Whole grain oatmeal is great for boosting energy and can be tasty too. Add antioxidant packed blueberries to your oatmeal, or a variety of other healthy fruits such as apricots, bananas or apple slices.
Turkey Bacon
Another healthy breakfast food is turkey bacon, which has a ton of protein and is lower in fat than regular pork bacon. You can pair your bacon with some energy boosting complex carbohydrates like whole wheat toast and all natural jam.
Cottage Cheese
Cottage cheese is packed with a lot of protein and calcium, which makes it good for an energy boost to start your day. Throw in some fresh fruit, like bananas, to pack even more energy and flavor into your breakfast.
Almonds
A handful of almonds and a few pieces of whole wheat toast makes for an effective breakfast. Almonds are packed with protein and the complex carbohydrates in whole wheat toast will help your body generate more energy.
Smoothies
Natural smoothies are a yummy choice too. The key is to keep them all natural and not add any unnecessary sugars or processed foods. Try a cup of fat free yogurt, throw in some blue berries for antioxidants and bananas for protein and add a little honey, or play around and make your own recipe.