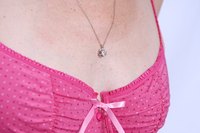 Breast implants are either saline or silicone implants designed to make your breasts look larger. They are a cosmetic surgery option that some women decide to undertake. Before deciding to have breast implants, it is important to carefully consider the pros and cons of this elective procedure.
Appearance
For some women, the biggest advantage of breast implants is that they will improve their appearance. Women who have small breasts or sagging breasts may feel that breast implants will restore or improve their natural curves. This can provide a boost in self-esteem and the opportunity to wear clothes that they otherwise might not be comfortable in.
Cost
Cost is one disadvantage of breast implants. According to InfoPlasticSurgery.com, the average cost of saline implants is between $5,000 and $6,500 as of April 2010. The average cost of silicone implants is between $6,000 and $8,000. Because the procedure is elective, it is not covered by insurance, and you will have to pay these costs out-of-pocket.
Unnatural Appearance
With breast implants, there is a risk that you won't be satisfied with the results. Breast implants can look unnatural in terms of body proportions. If the procedure is not done correctly, your breasts may be different sizes or have other imperfections that leave you feeling dissatisfied with the surgery.
Loss of Sensation
With breast implants, you may lose sensation or feeling in your nipples, which can decrease sexual pleasure. Implants can also make it difficult or impossible to breast-feed a child, so most plastic surgeons suggest that you avoid breast implants until you are past child-bearing years.
Health Risks
There are several health risks associated with breast implants. The surgery itself is risky as you have to undergo anesthesia. According to the FDA, you also have a risk of infection or rupture of the implants, which may lead to infection, fever and the need for subsequent surgeries.