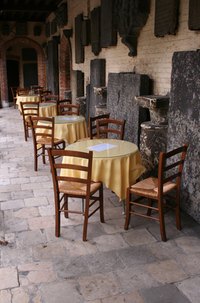 The Eiffel Tower is in the heart of Paris. It not only draws millions of tourists but is a neighbor to a variety of museums, shops and cafes. Visitors can find cafes on most streets in the vicinity of the tower. Whether one desires to relax among the locals, enjoy a meal or take in great views, these cafes will satisfy. Half of these are popular spots offering ideal views of the Eiffel Tower while others are popular cafes that are rich in Parisian history and significance.
Cafe Constant
Cafe Constant is in the seventh arrondissement of Pari,s just steps away from the Eiffel Tower. Serving traditional cafe food, it is a real Parisian cafe. Visitors can also enjoy a meal here. Owner Christian Constant has written several cookbooks, demonstrating his expertise in French cuisine. The menu is seasonal and includes dishes such as a duo of duck in a fig sauce or foie gras. This cafe can accommodate those looking for a cup of coffee and a croissant or an entire meal.
Cafe Constant 139 Rue Saint-Dominique Paris, France 75007 011-33-09-75-82-08.07 cafeconstant.com/1.aspx
Cafe Carlu
This quaint cafe is across the street from the Eiffel Tower in the Palais de Chaillot. It has fantastic lighting and large windows that frame the Eiffel Tower. It also has a terrace offering one of the best views of the famous monument. With space for 60, it can host groups. It functions as a bar while also serving meals. It offers three-course meals that include salmon served over spinach or duck with capers.
Cafe Carlu 1 Parvis des Libertes et des Droits de l'Homme Paris, France 75116 011-33-01-58-51-52-00
Cafe de Flore
This is said to be the most famous cafe in the world. This historic cafe is on the Left Bank, not far from the Eiffel Tower. While a little pricey, it draws many visitors who want to visit a place where men such as Jean-Paul Sartre, Albert Camus and Pablo Picasso once frequented. It was here that existential thought flourished. The menu covers a range of snacks, meals, desserts, and hot or cold drinks. Guests can order a Croque Monsieur sandwich with ham and cheese, Beef Carpaccio, or a quiche and salad.
Cafe de Flore 172 Blvd. Saint-Germain Paris, France 75006 011-33-01-45-48-55-26 cafedeflore.fr
Cafe des Deux Magots
For more than 100 years, this cafe has had a strong presence in Paris. It has played an important role in French literature because writers such as Ernest Hemingway, Sartre and Simone de Beauvoir spent time here. It offers a range of drinks, pastries and meals. The menu features sandwiches, omelets and salads. In the evening, it serves dinners that include steak with sauteed apples, duck leg with honey and spices, or Scottish salmon served with ratatouille.
Cafe des Deux Magots 6 Place Saint-Germain des Pres Paris, France 75006 011-33-01-45-48-55-25 lesdeuxmagots.fr/index.php