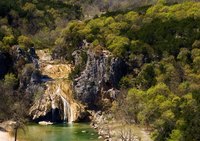 Waterfalls may not come to mind when you think of central Oklahoma, but nevertheless, you'll find Turner Falls nestled in the state's Arbuckle Mountains. The waterfall in Davis, Oklahoma, draws visitors from all over the region to its impressive 77-foot plunge into a natural swimming hole. In addition to the waterfall, the other outdoor activities in Turner Falls Park make it worth an overnight stay. You'll find an abundance of cabin rentals in the surrounding area when you want a rustic, back-to-nature experience. Cabin rentals are spread out in the Arbuckle Mountains, by Arbuckle Lake and in the valleys in between.
Mountain Cabins
Turner Falls Park itself has several cabins for rent, allowing you to stay within walking distance of the waterfall. Each cabin includes two full beds, a small kitchenette and one bathroom. Only bed linens are provided, so bring your own supplies for the kitchen and bathroom. Other park attractions include swimming holes, natural caves to explore and a historic rock castle. Nearby are the Kiser Cabins, spread out in and around Turner Falls Park. These bright red cabins have one to three bedrooms and basic amenities, including satellite television. You'll need to bring your own linens and pillows, however. All have spacious decks and one has a hot tub. Outside of Turner Falls Park, other area attractions include soaking in the mineral springs in the Chickasaw National Recreation Area and zip-lining over the mountains with Air Donkey Zipline Adventures.
Cabins by the Lake
Stay close to the lake at one of the two Arbuckle Lake Cabins. These top-of-the-line furnished cabins give you both style and all the comforts of home, including fully equipped kitchens, plush couches and a large deck with a grill. The cabins are just a three-minute drive to the Guy Sandy Boat Ramp, where you can dock your boat if you bring one or rent a boat near the boat ramp. Other lake activities include fishing for bass, swimming and water-skiing. The Buckhorn Road Cabins are secluded on the southeast side of Arbuckle Lake, with rustic, fully furnished cabins with amenities such as a coffee machine and a flat-screen television. Nearby attractions include the Chickasaw Cultural Center.
Romantic and Intimate
Those seeking a romantic hideaway near Turner Falls can choose among many cabins geared toward couples. Arbuckle Mountain Lodging's Lonesome Dove Cabin is tucked between the Arbuckle Mountains and the Washita River Valley. The furnished cabin has a Western theme and includes a king-sized bed, an oversized shower big enough for two and a whirlpool hot tub. Fire up the grill and cozy up with your love under the stars on the spacious deck. Lake Premiere Property features a number of accommodations especially for couples, including its Secret Cove Cabin. This log cabin hidden in the mountains includes a fireplace, a hot tub, a hammock and even a canoe waiting down at the dock for a complementary sunset ride on the lake. You can enhance your getaway with a trip to the nearby Echo Canyon Spa Resort in Sulphur, 20 minutes from Turner Falls.
Large Family Cabins
Several cabin companies cater to large families or groups, such as the Arbuckle Family Lodges with both cabins and lodges deep in the Arbuckle Mountains. The cabins can sleep up to eight people, and include linens, full kitchens, large picnic tables, a grill and a large wooden porch. Another cabin company, Arbor Breeze, also has spacious accommodations ideal for large families, such as its Mountain Park Breeze cabin, which sleeps up to six and has a thoroughly modern interior, although you must bring your own linens. It also has a rock fire pit on the property. Nearby family-friendly activities include swimming and boating on Arbuckle Lake and hiking in the Chickasaw National Recreation area. There's also the Arbuckle Wilderness Park, home to exotic animals and kid-friendly rides, bumper boats, inflatable slides and go-karts.