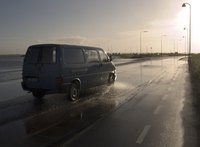 Owning a mobile business has two primary advantages. First, mobile-business owners save money on the rent and overhead costs that typical brick-and-mortar businesses encounter. Second, mobile businesses can adapt to regional population shifts—if you decide a specific region is no longer profitable, you can shift your efforts elsewhere without a major upheaval. Whichever type of mobile business you plan to start, research the different business regulations in each region you plan to cover.
Computer Repair
When a home computer breaks down, few people want to load the computer into a car and take it to a repair shop. If you know how to fix computers, this presents a money-making opportunity for you. You will need a vehicle that can carry all your tools and spare parts plus the know-how to deal with multiple types of computer systems and software. To find customers, place flyers at local establishments advertising your computer-repair services or ask friends and family to recommend you to people they know.
Home-Inspection Service
People about to sell their homes or buy new ones often need a qualified home inspector to examine the property and buildings. If you have construction experience and know how to find hidden problems--such as cracks in the foundation, termites, bad electrical systems and poor structural features--start a home-inspection service. Before you do, consult the building-regulation departments of the regions you plan to service. You may have to apply for a special license or pass a certification test.
Power Washing
Many people have decks, driveways and home exteriors that need washing every season. A power-washing business uses a compressor to shoot a powerful jet of water that easily knocks dirt away. The compressor and hoses will likely be expensive, but after you finish paying them off, your overhead costs will be low.
Mobile Franchises
If you do not own the equipment or have the training to start a new business, research some mobile franchises. Franchises are companies that train and equip people to open a branch of an already established business. In exchange, you agree to share the profits. Typically, you will have to pay an upfront fee and then a percentage of your earnings. Some examples of mobile franchises are carpet-cleaning, vending-machine, pest-control and pet-grooming businesses. Before signing anything, research a franchise carefully to see if you are getting your money's worth and ask a lawyer to look over all contracts.