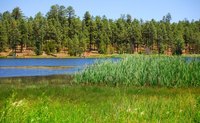 With several state parks, including Piney Woods and Tyler State Park, east Texas is especially appealing to tourists interested in a getaway surrounded by nature and wildlife. If you're interested in a weekend or longer at a lake with hiking, biking, fishing, and more activities, there are several lakeside cabins available for rent in east Texas.
Deer Lake Cabins
Located in Piney Woods on the Double S Ranch, Deer Lake Cabins has more than 12 miles of trails for hiking, horseback riding, biking, and golf carts. The premises also feature two lakes, Deer Lake and Dream Lake, and three ponds for those looking for a weekend of fishing. There are also two playgrounds for children. Deer Lake is an especially popular spot for birdwatchers, particularly during wild duck migration season. Available cabins range from one-bedroom/one-bathroom, to three-bedroom/two-bathroom with full kitchen, washer/dryer, and may include a sun room, deck with a lake walkway, and private pier.
Deer Lake Cabins 838 Kings Country Blvd. Scroggins, Texas 75480 903-860-3898 deerlakecabins.com
Plum Lake Cabins
Less than 10 miles from Canton, Texas, Plum Lake is a getaway for couples only--each cabin is designed to accommodate two people, with one cabin designed for two couples. With a seven-acre fishing lake filled with bass, crappie, catfish, and perch, it's also a great place for those interested in fishing. Each cabin comes with a barbecue grill, air conditioner, kitchen appliances and cookware, a fishing boat, a private hot tub, and a fireplace furnished with wood.
Plum Lake Cabins 8322 State Highway 198 Canton, TX 75103 903-848-1033 plumlake.com
Lake O' the Pines Lodge
Lake O' the Pines Lodge is located just 15 minutes from Jefferson, the fifth oldest town in Texas, with antique shops, horse carriage tours, ghost walks, and other tourist attractions. The lodge itself covers nearly 19,000 acres, with a wide variety of rooms, cabins, and houses for rent. The cabins all include air conditioning, bathroom, kitchen appliances, an outdoor grill, and porch chairs. Each cabin is close to the rock waterfall and swimming pool, and visitors can take a short walk to the Johnson Creek Recreational Area to enjoy water sports and more outdoor activities.
Lake O' the Pines Lodge 903-755-2725 lakeothepineslodge.com