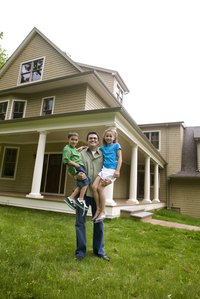 First-time hombuyer grants and funding are available in various areas of Kansas. To qualify for a loan or grant that covers your down payment or closing costs, you must meet a few requirements, including income limits, occupancy status and homebuyer education. Program funding and availability varies by location, housing agency and lender. By definition, a first-time buyer in the Sunflower State has not owned a home in the past three years.
Down Payment and Closing-Cost Assistance May Be Forgiven
With the exception of Topeka, Wichita, Lawrence, Kansas City, and Johnson County, you can get down payment and closing cost help in Kansas via a forgivable loan called the First Time Homebuyer Program. Over time, the soft loan becomes a grant that doesn't require repayment. The FTHP can cover up to a 15 or 20 percent down payment, depending on your income, and you must contribute two percent of the purchase price from your own funds toward the purchase. You also must earn enough money and have sufficient credit to obtain a first mortgage from a traditional, particpating lender.
Wichita Will Defer Payment in Revitalization Areas
Wichita's HOMEownership 80 Program offers down payment and closing-cost assistance in the form of a deferred loan. You don't have to repay any of the zero-interest loan until you move out of the property, refinance or otherwise pay off the first mortgage debt. The City of Wichita also forgives half of the loan amount after five years if you receive $15,000 or less, and after 10 years if you receive more than $15,000. You can receive up to 20 percent of the purchase price, plus $2,000 to help with closing costs. This means you only have to obtain a first mortgage for 80 percent of the home price. The sale price can't exceed $95,550 and you must contribute $1,000 of your own funds to the transaction. The home must also be located in a city-designated revitalization areas.
Kansas-Based Bank Sets Aside Funds for First-Time Buyers
The Homeownership Set-Aside Program offered through Federal Home Loan Bank of Topeka helps first-time buyers throughout Kansas. The program provides down payment, closing costs and property rehabilitation financing for low-income homebuyers. You must be a bank member to receive a HSP grant of up to $7,500 and must contribute $500 of your own funds to the transaction. You also must agree to live in the home for at least five years.
Tips for Homebuyers
To obtain a grant or other type of homebuyer assistance, the lender and agency administering the program requires you to complete homebuyer education. You can take a course online or at an approved site and present proof of completion along with your program application. Agencies also may require you to use an approved lender to obtain your first mortgage in conjunction with a first-time homebuyer grant or loan.