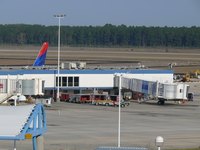 The Daytona Beach area consists of 23 miles of beaches, restaurants and various attractions. It's probably most famous for the Daytona International Speedway, where the Daytona 500 is held annually. But if you're there in March, you'll realize that Daytona Beach is also one of the most popular Spring break destinations for college students. The Daytona Beach International Airport serves the entire area, and there are only three airlines that fly out of Daytona Airport in Florida.
AirGate Aviation
Unless you've flown in or out of Daytona Airport, you might have never heard of AirGate Aviation. They're a charter airline that provides service from Daytona Airport to Marsh Harbor and Treasure Cay in the Bahamas. According to the AirGate Aviation website, they have a fleet of Cessna's that provide significantly more legroom and comfort than your average commercial airline.
Delta Air Lines
Delta flies more than 160 million passengers to 350 destinations a year. According to Delta, they are the only U.S. airline to serve six continents. Their primary hub is the Atlanta International Airport, but they also have flights leaving from the Daytona Airport. Because Daytona isn't considered a hub airport, you may have to stop over in another city before reaching your final destination.
US Airways
US Airways has more than 3,000 flights a day, with their primary hub being the Charlotte Douglas International Airport in Charlotte, North Carolina. If you're leaving from the Daytona Airport, you won't find any of the traditional services you'd see at a larger airport. There's no curbside check-in or US Airways lounges. In fact, there's only one gate for US Airways, which could lend to a speedier departure.