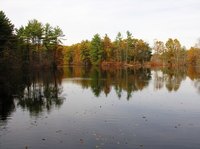 The New England states offer many, inexpensive getaway options for a couple celebrating their 25th wedding anniversary. Whether traveling off-season, off the beaten path or simply finding a new place to explore, there are a variety of unique and romantic places to visit in New England.
Connecticut
New England evokes images of white churches with tall steeples surrounded by trees with yellow, red and orange leaves;which is a good description of Litchfield Hills. The area is rich with antique shops and art galleries, vineyards and farm stands. Guests at the Hopkins Vineyard can tour the vineyard and winery and enjoy a glass of wine (tastings cost $6 per person, including a take home glass). After touring the winery couples can stay at the neighboring Hopkins Inn. The inn has a private beach on Lake Waramaug and offers affordable rooms ($130 for a room with a lake view). (Rates current as of March 2010.)
Hopkins Vineyard 25 Hopkins Rd. New Preston, CT 06777 860-868-7954 hopkinsvineyard.com
Hopkins Inn 22 Hopkins Rd. New Preston, CT 06777 860-868-7295 thehopkinsinn.com

Massachusetts
If you can avoid the summer high-season the Berkshires can be an affordable anniversary getaway. The Berkshire Visitors Bureau official website regularly publicizes special deals for lodgings and has printable coupons for dining, shopping and other activities. Places to visit include Ventfort Hall, the stunning Victorian gilded age mansion featured in the movie "The Cider House Rules," and the Chocolate Springs Café, a local favorite serving handcrafted chocolates, ice cream, pastries and hot drinks.
Berkshire Visitors Bureau 3 Hoosac St. Adams, MA 01229 413-743-4500 berkshires.org
Chocolate Springs Café 55 Pittsfield/Lenox Road Lenox, MA 01240 413-637-9820 chocolatesprings.com
Ventfort Hall Mansion 104 Walker St. Lenox, MA 01240 413-637-3206 gildedage.org

Rhode Island
You'll light the flame of romance with a visit to the exhibit of 100 bonfires burning on the river as they reflect on the water and fill the air with the pleasing scent of wood aflame. Waterfire is a free, fire-based arts installation that has been delighting visitors in downtown Providence since 1994. On select weekend nights from May through October walk along the river and enjoy music, performers, food vendors and a warm atmosphere. For a $5 donation a couple may light its own candle to celebrate their anniversary. There are numerous hotels and bed-and-breakfasts within walking distance of Waterfire. A short walk away is Federal Hill, the Little Italy of Providence, with its many restaurants, specialty shops and cafes.
Waterfire Providence Office 101 Regent Ave. Providence, RI 02908 401-273-1155 waterfire.org/contact
ProvidenceFederalHill.com 387 Atwells Ave. Providence, RI 02909 providencefederalhill.com
Maine
The Camden Harbour Inn and Ledges by the Bay regularly have midweek and off-season value packages for overnight lodgings that often include meals. The main attraction in Camden is the sea, and there are boat rentals, fishing and water sports. In the winter there is cross country skiing, and throughout the year there are artist's studios, galleries and museums to visit.
Camden-Rockport-Lincolnville Chamber of Commerce P.O. Box 919 Camden, ME 04843 800-223-5459 camdenme.org
Camden Harbour Inn 83 Bayview St. Camden, ME 04843 800-236-4266 camdenharbourinn.com/
Ledges by the Bay 930 Commercial St Rockport, ME 04856 800-898-8944 ledgesbythebay.com

Vermont
The Vermont hills are alive with the sound of music at the Trapp Family Lodge, the Austrian-inspired home of the Von Trapp family made famous by "The Sound of Music" movie. A couple celebrating a silver anniversary can be inspired by the true love story of the real life couple, Maria and Captain Von Trapp, who founded the lodge. While overnight accommodations cost about $200 per night, the grounds and the gift shop are open to the public at no charge. Near Stowe is the famous Ben & Jerry's factory, which offers tours for $3 per person. The tour highlight is the finale, a sampling of the flavor of the day. There are a large selection of budget lodgings in the areas, from small bed-and-breakfasts to chain hotels. (Rate current as of March 2010.)
Trapp Family Lodge 700 Trapp Hill Rd. Stowe, VT 05672 800-826-7000 trappfamily.com
Ben & Jerry's 1281 Waterbury-Stowe Rd. Waterbury, VT 05676 802-882-1240 benjerry.com
New Hampshire
Bargains abound in the White Mountains when the leaf peepers and skiers go away. Throughout most of the year their mountains hiking trails to follow. Franconia Notch State Park has a natural granite gorge, the Flume Gorge, accessible by footpaths and bridges that pass waterfalls and picturesque, historic covered bridges. In summer there is swimming at Echo Lake. The area has camping, hotels, rental houses, and inns. The Franconia Inn is a colonial-style country inn that regularly offers romance packages and bed-and-breakfast specials for as little as $100 per night outside of peak season. (Rates current as of March 2010.)
Franconia Inn Easton Rd. Franconia, NH 03580 800-473-5299 franconiainn.com
New Hampshire Parks & Recreation 172 Pembroke Rd. P.O. Box 1856 Concord, NH 03302-1856 603-271-3556 nhstateparks.org