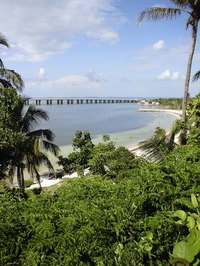 Key Largo is the Florida Keys' northernmost island and is less than an hour's car ride from Miami. The area is home to two state parks, a national park and many picturesque botanical gardens. Many consider Key Largo to be the Diving Capital of the World. It is a popular sport-fishing destination. Many of Key Largo's all-inclusive resorts offer these and several other outdoor activities for its vacationers.
Key Largo Grande Resort & Beach Club
The impressive Key Largo Grande Resort & Beach Club is situated minutes south of central Key Largo on 13 isolated acres neighboring Everglades National Park. The modern resort recently underwent a $12 million renovation. Accommodations include rooms and suites, some offering bay views, which are furnished with private balcony, king-size beds, high-speed Internet (for a fee), cable television and more. The resort offers two outdoor, heated pools with waterfalls and sundeck, state-of-the-art fitness center, tennis courts, water sports, private beach and massage services. The Treetops Bar & Grille serves breakfast and dinner in a casual atmosphere that features views of the bay. Guests can also enjoy food and drink at the resort's Splashes Pool Bar and Waves Beach Bar.
Key Largo Grande Resort & Beach Club 97000 South Overseas Highway Key Largo, FL 33037 888-871-3437 keylargoresort.com
Key Largo Marriott Bay Resort
The elegant Key Largo Marriott Bay Resort is located bay-side on Blackwater Sound in Key Largo's northern section. The resort features a full-service open-air day spa that offers massage and aroma therapies, sea-salt scrubs and facials. Water sports, such as diving and snorkeling, are available at the resort's private docks, and outside activities such as shuffleboard and table tennis are also offered. A gift shop with local artwork and beach wear is open daily. Guests can dine at Gus' Grille for breakfast, lunch and dinner, and Flipper's Poolside Tiki Bar and Breezer's Bar and Grille offer live entertainment, cocktails and pizza. Rooms include wireless Internet, king or queen-size beds and refrigerator.
Key Largo Marriott Bay Resort 103800 Overseas Highway Key Largo, FL 33037 305-453-0000 marriottkeylargo.com
Marina Del Mar Resort Key Largo
The ocean-facing Marina Del Mar Resort is situated near central Key Largo. Accommodations include guest rooms, studios and two-bedroom suites that feature amenities such as cable television and private balconies. Some rooms come with full kitchen and living rooms. A deluxe continental breakfast is served daily. The resort has tennis courts and an Olympic-size, heated swimming pool plus Jacuzzi, as well as a fitness center and sundeck with entertainment area. The resort also offers boat rentals and has a dive and gift shop. Bogie's Cafe is open daily for breakfast, lunch and dinner, and Coconuts Restaurant & Night Club serves fresh seafood for lunch and dinner.
Marina Del Mar Resort Key Largo 527 Caribbean Drive Key Largo, FL 33037 305-451-4107 marinadelmarkeylargo.com