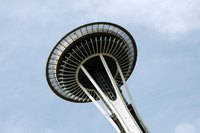 The biggest city in the Northwest is Seattle, Washington. Both residents and visitors have many options for recreation. People of all ages and backgrounds find something fun to do in the city. Some activities are costly, but others may be free of charge.
Pike's Place Market
Ultimately a tourist attraction, the Pike's Place Market in downtown Seattle features many vendors selling food, clothing and miscellaneous items, but the most famous vendors are the fish merchants.
Pike's Place Market 85 Pike Street Seattle, WA 98101 206-622-6198 www.pikeplacemarket.org
Coffee Shops
Seattle is known for its coffee scene. There is a plethora of independent coffee shops to be found throughout Seattle, and visitors should experience at least some of the many cafes in the area. While Seattle is the home of Starbucks, there are independent spots such as Espresso Vivace, Cafe Besalu and Tully's.
Whale Watching
There are charter boats that go on whale-watching trips around the Seattle bay area. Both killer whales (orcas) and gray whales may be spotted on these trips, especially in the warmer months of the year.
Space Needle
One of the most famous landmarks in America, and certainly the calling card of Seattle, is the Space Needle. Visitors may take an elevator to the observation deck, which is over 500 feet high, where the SkyCity restaurant rotates, offering views of Seattle's skyline and surrounding mountain ranges.
Space Needle 400 Broad Street Seattle, WA 98109 206-905-2100 www.spaceneedle.com
Concerts
The home of grunge music, Seattle has a vibrant music scene. Venues like Neumos, The Showbox and the Paramount Theatre bring in some of the best local and touring acts. Seattle also has a growing \"house show\" scene, but venues change from night to night so you have to be in the know if you want to find one of these shows (hint: talk to a local resident at a coffee shop for tips).
Seattle Central Library
One of the architectural marvels of Seattle is its public library downtown. Even if you don't have a library card, exploring this 11-story building is free of charge. The American Institute of Architects named it one of their favorite structures in the U.S. in 2007.
Seattle Central Library 4th Avenue and Madison Street Seattle, WA www.spl.org
Ferries
Seattle is unique in that it has a great ferry system. Small islands and other areas of Washington can be accessed through these boats, and they offer fantastic views of the mountains and skyline.
National Parks
The metropolitan area offers some of the most stunning national parks in America. Especially beautiful are the Olympic National Park in Port Angeles and North Cascades National Park in Marblemount.
Sports
Two national sports teams are in Seattle, the Seahawks (NFL) and the Mariners (MLB). If visiting in spring or summer, try to catch a Mariners game at Safeco Field. It's harder to find tickets for the Seahawks games.
Seattle Mariners' Safeco Field 1250 1st Avenue South Seattle, WA? 206-346-4001? mariners.mlb.com
Seattle Seahawks' Qwest Field 800 Occidental Avenue S, #100 Seattle, WA 98134 206-381-7555 www.seahawks.com/
Shopping
In downtown Seattle, some of the finest shopping centers are available for those who want a new outfit. Fifth Avenue, Nordstrom and Urban Outfitters are just some of the many stores in the area.