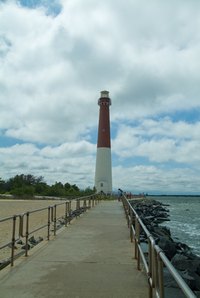 Atlantic City, New Jersey is famous for being the second favorite gambling city in the United States after Las Vegas, Nevada. Located in the Southeastern part of New Jersey on the Atlantic Ocean, Atlantic City offers far more than gambling and all-you-can-eat-buffets. The bustling city is full of attractions, exciting tours, historic sites, shopping, restaurants and much more.
The Atlantic City Boardwalk
After a day of glitz and gambling at one of the area casinos, take in the ocean air and stroll along the famed Atlantic City Boardwalk. The original boardwalk was first constructed in 1870 and was expanded many times. Before the 1944 hurricane that severely damaged parts of Atlantic City, the boardwalk stretched seven miles out into the Atlantic Ocean. Today, the boardwalk is just over four miles long and 60 feet wide. Open both day and night, the boardwalk features restaurants, arcades and shops or just a chance to sit and relax.
Atlantic City Boardwalk Atlantic City, NJ 08401
The Steel Pier Amusement Park
This amusement park, located on Atlantic City's Boardwalk was first opened in 1898. The park is a favorite for parents and kids alike, with its exciting rides, numerous games and intricate carousel. The park underwent a huge rebuilding in 1993 due to an almost devastating fire in 1982. It is open from Memorial Day to Labor Day.
The Steel Pier Amusement Park 1000 Boardwalk Virginia Avenue Atlantic City, NJ 08401 609-345-4893 steelpier.com
Rolling Chairs
The Rolling Chairs are the taxi of the Atlantic City Boardwalk. Since the 1800's, Rolling Chair guides have been a fixture on the boardwalk offering riders a comfy seat and knowledgeable information on Atlantic City and its attractions. Rates vary by guide. The guides operate from Memorial Day to Labor Day.
Royal Rolling Chairs? 1601 Boardwalk Atlantic City, NJ 08401-6913 609-347-7500?
Atlantic City Aquarium
This Atlantic City tourist attraction features a 25,000 gallon "Fish of the Mid-Atlantic" tank filled with shark, rays, and dogfish. Visitors can watch as one of the divers hand-feeds the fish and can also participate by asking her questions during the show. The show lasts for approximately 20 minutes. Situated in the historic Gardner's Basin area of the City, the location also offers waterfront restaurants and shops. The Aquarium is open daily from 10 am to 5 pm.
Atlantic City Aquarium 800 North New Hampshire Avenue Atlantic City, NJ 08401 609-348-2880 acaquarium.com/default.asp
The Absecon Lighthouse
Believed to be a haunted lighthouse and recently featured on the SciFi Channel's "Ghost Hunters", the tallest lighthouse in New Jersey was first lit in 1857 and is 228 steps above the Atlantic Ocean. The lighthouse stands at 171 feet tall, and offers sweeping views of the ocean and city. The lighthouse is open Thursday through Monday 11 am to 4 pm from September to June, and daily 10 am to 5 pm during July and August.
The Absecon Lighthouse Rhode Island Avenue at Pacific Avenue Atlantic City, NJ 08402 609-449-1360 abseconlighthouse.org
The Walk-Atlantic City Shopping Outlets
Need to spend your winnings? Then head over to The Walk. The Walk features numerous shopping and restaurant options, and is still in the process of expanding. Stores include Aeropostale, Banana Republic, Jones New York, Nike Factory Outlet, KB Toys and Nine West. Restaurants include Applebee's, Ruth's Chris Steakhouse, Ruby Tuesday's and Amici Brick Oven Pizza. The Walk is open from March 29 through June 26 Monday through Saturday 10 am to 8 pm, and Sundays 10 am to 6 pm, and is open daily June 27 through September 5 from 9:30 am to 9 pm.
The Walk 1931 Atlantic Avenue Atlantic City, NJ 08401 609-872-7002 acoutlets.com/index.cfm
Ripley's Believe It or Not Museum
Sure to delight the kids, Ripley's Believe It or Not Museum is housed in a building that looks as if it is half-destroyed by a wrecking ball. Museum exhibits include a life-size statue of Michael Jordan created of paper, plastic, wire and glass, and the Fiji Island Mermaid, from the collection of P.T.Barnum. The museum is open 365 days a year.
Ripley's Believe It or Not Museum New York Avenue and The Boardwalk Atlantic City, NJ 08401 609-347-2001 ripleysatlanticcity.com
Atlantic City Trolley Tours
These award-winning tours in old-fashioned trolleys offer five different options: The Splash of Atlantic City Tour, The Shipwrecks and Shoreline Tour, The Wine Tasting & History Tour, The Ginger Bread Tour and The Shop 'Til You Drop Tour. Tours vary from 3 1/2 to 6 1/2 hours in length. Trolleys pick up passengers from three separate Atlantic City locations: The Flagship/FantaSea Resort, Boardwalk Hall Visitors Center and the Tropicana Casino.
Atlantic City Trolley Tours 1-888-811-9254 atlanticcitytours.net
Atlantic City Cruises
Located in the historic Gardner's Basin area of Atlantic City, Atlantic City Cruises offers four different cruising options: an 11 am Morning Skyline Cruise, a 1 pm Dolphin Watching Cruise, a 4 pm Sightseeing Tour and a 6 pm Happy Hour Back Bay Cruise. All cruises feature an experienced boat captain and tour guide. Cruises run from June through September.
Atlantic City Cruises 800 North New Hampshire Avenue Gardner's Basin Atlantic City, NJ 08401 609-347-7600 atlanticcitycruises.com
The Pier Shops at Caesar's
The Pier Shops at Caesar's is an upscale shopping center and dining experience featuring over 90 stores and eight restaurants with sweeping views of the Atlantic Ocean. Shop in all the world-renowned designer shops, such as Hugo Boss, Tiffany & Company, Bebe, Gucci and Burberry. Sample the fine cuisine in the Irish Trinity Pub and Carvery, Buddakan featuring Asian cuisine or Phillips Seafood. Hours are 11 am to 9 pm.
The Pier Shops at Caesar's One Atlantic Ocean Atlantic City, NJ 08401 609-345-3100 thepiershopsatcaesars.com