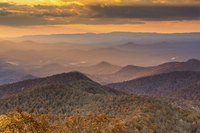 Known as the "Peach State" and located in the southeastern part of the U.S., Georgia attracts millions of visitors and tourists annually. Georgia also benefits from a diverse geography, with mountains in the northeast, the Atlantic Ocean in the east and neighboring Florida to its south. The Peach State also enjoys a predominantly subtropical climate that helps attract those planning honeymoons and associated sightseeing activities. Newlyweds, in fact, have their pick of many high-quality honeymoon destinations throughout Georgia.
Beautiful Blue Ridge
The Blue Ridge Mountains sit in the northeastern part of Georgia and give honeymooners their choice of rugged mountains combined with scenic beauty. Many couples heading to Georgia's northeastern mountain region choose from quality bed-and-breakfasts or luxury cabin rental honeymoon packages. Various luxury inns and individual chalets are also scattered throughout Georgia's Blue Ridge Mountains and all cater to romantic adventures.
Charming Savannah
Bridal Guide rates Savannah, Georgia, one of its prime honeymoon locations. Many of Savannah's historic mansions have now been transformed into high quality hotels of great charm and beauty. Honeymooners to Savannah can stay in historic inns and hotels outfitted with four-poster beds, private balconies and fireplaces. Daytime activities for newlyweds staying in Savannah include culinary tours and even visits to some of the city's purported haunted sites. River Street in Savannah's historic district hosts a lively nighttime club scene.
A Colorful Coast
The Georgia coast is known for its Atlantic shoreline and its "Golden Isles." Composed of the city of Brunswick and four beautiful channel islands, the Golden Isles are seemingly made for honeymooners. Newlyweds traveling to the Georgia coast and the Golden Isles have their choice of luxury resorts, including the impressive Sea Palms on St. Simons Island. The Georgia coast also attracts couples to locations such as Darien, where they can wander a colorful waterfront.
The Historic Heartland
Just east and south of Atlanta, Georgia, lies the state's central region known as its historic heartland. Honeymooners vacationing here experience all the charm of the state's Antebellum Trail, including tall oak trees lining quaint and historic towns such as Covington and Madison. The Atlanta Magazine website calls Madison the showcase of the Antebellum Trail. Honeymooners heading to the Peach State's historic heartland have their pick of prime lodgings, such as the Madison Oaks Inn & Gardens, a beautifully restored Greek neoclassical style mansion.