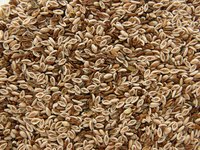 Soy bran refers to the finely pulverized or pureed hulls (or outer-casings) of dried soybeans. According to soyinfocenter.com, the term—which was first coined by the American William G. Bowers in 1919—should not be confused with soy pulp, which is an insoluble residue left over from tofu and soymilk production. While originally used as an additive in livestock feed, soy bran is now a common food ingredient and supplement, and is well known for its high fiber content.
Cholesterol Reduction
Soy bran—according to soyinfocenter.com—is made up of two different types of fiber: soluble or digestible fiber and insoluble or nondigestible fiber. Of the two, it is the former, soluble fiber, which can help reduce your blood cholesterol levels. A 1978-1979 study by J.M. Munoz and coworkers showed that of all the most traditional and well-known sources of fiber, such as psyllium, soy bran was the best at reducing cholesterol.
Constipation Relief
According to the same 1978-1979 study which found that soy bran can help lower cholesterol levels, the bran can also help ease constipation. This is largely due to its high fiber content. According to webmd.com, high fiber content foods—like bran—help increase stool weight, which acts as a natural laxative for the body. This is because the insoluble portion of the soy bran, as mentioned above, cannot be properly digested, so it travels through the digestive tract, helping to regulate the bowels along the way. For optimal laxative-related results, you should drink plenty of water while eating large quantities of fiber-rich foods.
BIle Normalization
Eating soy bran has also been known to help ease the symptoms of cholelithiasis—or gallstones—in female sufferers. These stones can block the bile ducts, which causes a build up of sludge and bile acids inside the gallbladder. According to a 1992 study summarized in the U.S. National Library of Medicine at ncbi.nlm.nih.gov, high soy bran diets helped lower bile acid levels in patients and promoted chemical normalization in the gallbladder.
Production
In addition to being good for you, soy bran is incredibly cheap and easy to produce. According to soyinfocenter.com, it was Bowers who discovered that you can mill or grind whole, dried soybeans, and this process will easily separate the hulls from the rest of the bean. You can also steam the bran to prevent it from oxidizing, which will lower its nutritional value and make it susceptible to rotting.