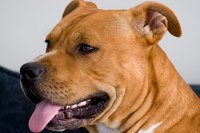 The American Bulldog was originally used by farmers to guard property and hunt bears, wild boars, raccoons and squirrels. Their powerful bodies are built for speed and agility. Weighing between 60 and 20 lbs., this large breed of dog may look ominous but is surprisingly loyal, caring and good with kids. However, these dogs must be socialized early on to achieve such good behavior. American bulldogs come in a wide variety of coat colors.
Piebald
Piebald is a spotted pattern with large areas of white combined with large areas of colored fur. Piebald American Bulldogs may have patch colors of red, brindle, or black or dark colors.
Brindle
Brindle is a color characteristic that may occur in any of the American Bulldog fur colors. It is a gray or brown streak through a fur color, which may occur over the entire body or only in patches of the fur. Brindle coloring may include all-over brindle, brindle and white, brindle piebald, dark brindle or red brindle.
Red
Red, in the case of American Bulldogs, is defined as any shade of red, brown or tan. This means that fawn, yellow, red and brown are all included in the red category. Red coloring may be solid or mixed with other colors such as red and white, red brindle or red piebald.
White
An American Bulldog may be solid white in color. The white color is an essential part of piebald coloring. White also can be mixed with black, red or brindle patches.