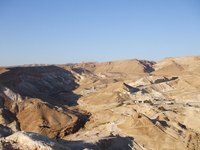 It's fair to say that Israel's greatest natural resource is its people--since the founding of the Jewish state in 1948, they've made the desert bloom and established a high-tech society. As for non-human resources, while Israel lacks much of the natural bounty of other lands, it is rich in minerals that have spawned a thriving, world-famous skin-care industry; it also has some of the world's largest deposits of natural gas.
Lake Kinneret
Lake Kinneret, known in the Bible as the Sea of Galilee, is Israel's sole large freshwater lake; it provides drinking water for one-third of the country. A popular tourist site, it also sustains a commercial fishery. The 64-square-mile lake is fed by freshwater streams and the Jordan River, and attains a depth of 144 feet. It is located in the Great Rift Valley and, because of the area's fertility, is a center of agriculture in Israel.
Oil and Gas
While Israel does not have the large oil reserves of some of its neighbors, it does have some, along with vast natural gas deposits off its Mediterranean coast. Thousands of barrels of oil are produced here each year; as of 2009, there were over 25 oil companies operating in Israel. Additionally, a 2008 study prepared for the Petroleum Commissioner of the Ministry of Infrastructure indicates that there is potential for successful hydrocarbon exploration in Israel's offshore Levant Basin.
Geological Resources
Israel has abundant amounts of clay, sulfur, potash, copper, sand, manganese and asphalt. These products are mined and quarried under the jurisdiction of the Ministry of National Infrastructure.The Geological Survey of Israel is tasked with planning for development and use of these natural resources.