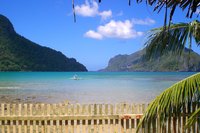 Saudi Arabian Airlines, the national carrier of Saudi Arabia, flies to Manila, Philippines, several times a week. Once in Manila, choose from a range of golf courses, shopping sprees or spa packages to fulfill your vacation desires. Venture into the rest of the Philippines for a more remote experience in which you can truly enjoy the local flavors. As an escape from the Saudi desert, the Philippines comprise an entirely different way of life. Here's what you need to know about Saudi Arabian Airlines services in the Philippines.
Manila
The only stop Saudi Arabian Airlines flights make in the Philippines is in Manila. Direct, nonstop flights leave from Dammam King Fahed, Riyadh King Khaled and Jeddah King Abdulaziz international airports several times weekly.
Saudi Arabian Airlines Main Office
The airline's main office in the Philippines is in Makati City, one of the inland cities surrounding Manila Bay. When not flying, direct general questions and concerns to this office.
Metro House, 4th Floor 345 Sen Gil Puyat Ave. Makati City Philippines 1200 +63 (2) 899-6265
Airport Services
For direct inquiries about ticketing and customer service, or to speak to the station manager, make your way to the main airport office, located on the fourth floor of Ninoy Aquino International (NAIA), the airport of Manila. For additional cargo, or to send baggage privately through Saudi Airlines, visit the Cargo Sales Department on the NAIA complex.
Station Manager, Customer Services, Ticket Office: Saudi Arabian Airlines 4th Level NAIA Pasay City Philippines 1200 +63 (2) 833-2868 +63 (2) 879-5031-32
Cargo Sales Department: 2F Pair Cargo Center NAIA Compound, Ninoy Aquino Ave. Pasay City Philippines 1200 +63 (2) 852-9393-95
Cebu Satellite
If you venture far from the capital, deep into the island chain, Cebu Island is home to a satellite office for Saudi Arabian Airlines and can deal with your mid-vacation concerns and queries.
Cebu Satellite Unit 35 Ground Floor Century Plaza Commercial Complex, Dona Juana Osmena St. Cebu City Philippines 6000 +63 (032) 253-1211-12