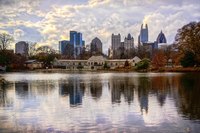 Atlanta has evolved into one of the premier cities in the southern United States, with a 21st century development boom that has endowed it with world-class attractions, such as the Georgia Aquarium, and a distinctly urban flair. Despite the growth, Atlanta remains a lush, charming city, thanks to its expansive parks and historic antebellum landmarks. Couples who want a romantic outing or weekend in the so-called "Capital of the South," have no shortage of options.
Connect with Nature
For couples whose love blossoms outdoors, the Atlanta Botanical Garden presents a wonderland of winding paths, extravagantly colored azaleas and shaded nooks. The Canopy Walk allows you and your beloved to stroll hand-in-hand 40-feet above the garden's surface. Piedmont Park sits adjacent to the botanical garden, and offers couples 211 acres of rambling parkland that includes Lake Clara Meer and a wetlands area.
A Cultured Date
The Atlanta Symphony Orchestra, which performs in Atlanta Symphony Hall, has won 27 Grammy Awards over its 69-year history. Music lovers can choose from over 200 annual concerts, which have featured world-renowned musicians like Yo-Yo Ma and Joshua Bell. If your beloved is inclined towards sweet, honeyed words, the Shakespeare Tavern has a full performance schedule organized around seasonal runs of Shakespeare's plays, and serves dinner before every show.
Have a Hotel Getaway
Forbes chose Four Seasons Hotel Atlanta as the best in the dynamic midtown area. Couples can enjoy a romantic getaway in the lap of luxury at a hotel located just a short walk from Piedmont Park. Oyster chose the Mandarin Oriental as Atlanta's most romantic hotel, thanks to in-room amenities like marble bathrooms and soaking tubs, and the hotel's spacious private garden. For a cozy, intimate option, try the Gaslight Inn, which Hotels.com recognized as Atlanta's top bed-and-breakfast.
Candlelit Bliss
CBS Atlanta highlighted the romantic atmosphere of Canoe, which sits right on the Chattahoochee River. Couples can reserve private window seats and enjoy fresh oysters, along with southern-inspired dishes like slow-roasted Carolina rabbit. For an expansive view, consider the Sun Dial, an upscale restaurant atop the Westin Tower that Thrillist chose as one of Atlanta's finest. Dinner seating requires proper attire, and guests can enjoy classic dishes like New York strip au poivre and inventive vegetarian entrees like grilled zucchini with roasted grit cakes.
An Activity for Two
Couples who bond over shared experiences can take a carriage tour with Nottingham Shire & Carriage for Hire. This company conducts horse-drawn carriage tours of downtown Atlanta, and lets couples choose from a Cinderella-style carriage or a historic Rockaway carriage. Adventurous couples can enjoy a one-of-a-kind experience at the Georgia Aquarium, which hosts adult-only sleepovers from May through July. Guests can enjoy behind-the-scenes tours, dinner and breakfast, and bed down next to their favorite exhibit.