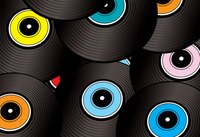 Forming an independent record label has all the risks and rewards of any business start-up. Drastic changes have transpired in the music industry in the last 20 years, but with that change comes new and unique risks for the fledgling record executive.
Flaky Artists
This one doesn't immediately jump to mind but is an area of real concern. Artists are a funny folk and many times can't balance the business side of the music business with artistry. Wasting money by showing up late or not at all for recording sessions, treating venue owners unprofessionally, or saying something that the press will pick up and run with that reflects badly on the record company are just some of the problems that could arise. Before signing anyone, it's best to think about the long-term impact an artist can have on the company's reputation and image as well as the bottom line.
No Radio Play
Being played on the radio is one of the best ways to promote an artist and also acts as a stream of income through the performing rights organization he belongs to. However, getting airplay is like pulling teeth with no anesthetic: hard and painful. Many program directors won't give the time of day to independent artists and spend only certain days listening to new material to add to their playlist. Even then there's no guarantee that your artist is the one they'll pick to play, especially on large radio stations.
Lack of Capital
This, of course, is a universal business startup problem. For an indie label, no money hurts on all kinds of levels. Without funds, there's no CD manufacturing , which means no music to send to radio stations or to sell at live gigs; no distribution, which means no music on store shelves; no studio time (unless the label own its own studio, which is a high possibility); no way to support the artist through marketing, which can in turn frustrate and motivate them to bail on the label.
Even if the indie operates in digital files only, they'll need to pay people for all the work it will take to keep their database in order, make phone calls, read mail and all the other sundry items entailed. Volunteers may be found but nothing motivates like money.
Unscrupulous Business Associates
People are like elevators. They either take you up or down. The music business has a stigma from the past that it's full of shysters, mobsters and greed mongers. Everyone tries to get something for nothing. Kickbacks can be expected and payola, the act of paying radio stations to play an artist's song, is still going on even though it's illegal.
Music Piracy
Lest we forget, music piracy is still around. If a consumer can get a song for free instead of paying for it, even if it is a measly 99 cents, then that will hit an indie record label's bottom line. With companies now looking to strip music downloads of DRM (digital rights management) protection the concern is that it will encourage more digital theft.