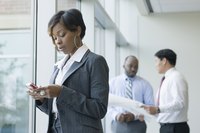 A C-Corporation, or traditional corporate business, is one option for structuring your company. Incorporating a C-Corporation typically involves more legwork than other formal setups, and subjects the owners to more requirements. However, you gain some financial advantages relative to other structures.
Limited Personal Liability
A corporation helps protect you from personal financial liability. If you operate an unstructured sole proprietorship, your business assets aren't viewed separately from your personal assets. Incorporating creates a separate business entity with its own financial assets and debts. Therefore, if the business has debt obligations, you personally aren't responsible for them. This offers peace of mind against the risks of financial ruin.
Equity Capital and Easy Ownership Transferability
Corporations are owned by shareholders. Therefore, a corporation is able to raise additional funds through both debt and equity financing. Equity financing means you take on additional shareholders who invest money in exchange for fractional ownership rather than an agreement for you to repay them. The ability to easily transfer ownership by selling shares of stock to a new owner is another benefit. This ownership flexibility allows someone who loses interest or enthusiasm for the business to exit more easily.
Excessive Tax Burden
Unlike pass-through entities, such as a limited liability company, C-Corporations are subject to double taxation. The corporation is taxed on its earnings at corporate tax rates. If the business has a $2 million profit in a given year, for instance, it pays taxes on that amount. Also, individual owners must pay taxes on income distributions from the company. Many corporations distribute income to shareholders in the form of cash dividends. Each shareholder then reports dividend income on his personal return.
Formal Requirements
If you prefer a loose operation with few formal requirements a C-Corporation may not fit the bill. First, you must file articles of incorporation in your state of operation to become incorporated. In addition, corporations are required to file annual reports, pay annual fees, and hold regular meetings for the corporate board and shareholders. Publicly-traded corporations also bear a responsibility to file periodic earnings reports per the Securities and Exchange Commission.