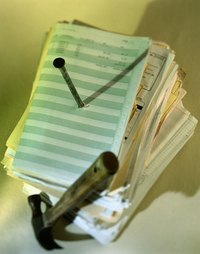 Key performance indicators (KPIs) assist managers and employees in measuring their success against stated strategies and goals. Beyond typical sales information, many other processes can be tracked in this manner. Performance indicators can vary by industry, but some common goals work for just about any product or service.
Units Sold
The quantity of units sold is a very traditional performance indicator, taking into account how many units of a particular product are sold. One way to take this to the next level would be to turn it into a percentage, such as the conversion rate of customer inquiries to sales generated.
Software Defects
For a computer or Internet company, one possible KPI would be measuring the number of software defects that are found only after the website or software is distributed to users. The goal here is to minimize the number of issues needing to be fixed. The software defect goal also incentivizes careful testing.
Time to Market
Whether your product is physical or virtual, customers appreciate a quick turn-around on new features and customization options. Measuring how long it takes to update or upgrade a business's products can boost sales growth, and ensure that you are meeting customers' needs as quickly as possible. A side effect of this indicator is that it ensures proper prioritization in your work plan.