African grey parrots in the wild eat a mix of seeds, fruits, veggies and nuts. To ensure that your pet parrot stays healthy and strong, you should try to emulate that diet as closely as possible by providing a balanced commercial diet with added fresh fruits, veggies, nuts and seeds.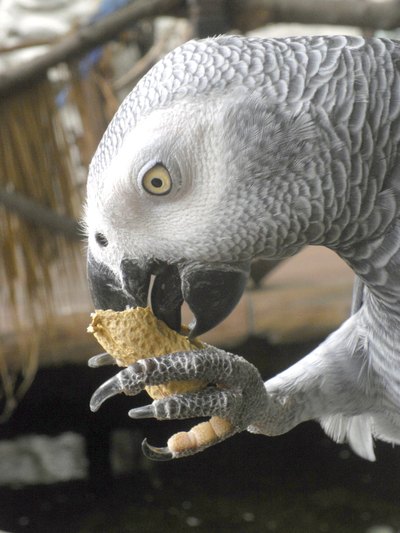 Basic Diet
In captivity, your parrot needs a base diet consisting of pelleted food -- commercially produced and containing all basic nutrients for your parrot to stay healthy. While pellets should not be the only thing your parrot eats, veterinarians Rick Axelson & Shawn Messonnier, on the Chewelah, Washington, Veterinary Clinic website, recommend that about 75 percent to 80 percent of your bird's diet should consist of pelleted foods, with other foods added in for optimal nutrition. Avoid a commercial all-seed diet, as these tend to be nutritionally insufficient and might be too high in fat, leading to obesity and health problems.
Complementary Foods
Feeding solely a commercial parrot food isn't sufficient -- you must add fruits and veggies to the diet for complete nutrition. Pick red, orange and dark green fruits and veggies to provide a good balance of nutrients. Kale, broccoli, mango, apples and pumpkin are healthy examples. Organic raw choices are best, but cook carrots and other veggies high in carotene to make them easier to digest. You can also add cooked foods such as brown rice and beans.
Other Foods to Add
In addition to fresh fruits and vegetables, African grey parrots need to eat a variety of foods high in calcium to ensure they stay healthy. Many dark green veggies are rich in calcium, but you can also add nuts -- especially hazelnuts and almonds -- or eggshells to provide your parrot with added calcium. Make sure your parrot is eating a variety of foods so they can get proper nutrition; offer different items on a daily basis, rather than feed the same fruit, nut and vegetable over and over.
Foods to Avoid
A number of foods are toxic to parrots, including chocolate, avocados, onions and products containing caffeine. Seeds and pits of certain fruits can be toxic as well: Apples are safe to feed, but apple seeds can be toxic, for example. Avoid feeding your parrots the pits and seeds of peaches, cherries and plums.