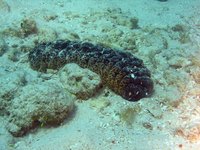 Sea cucumbers are classified as invertebrate animals and are found throughout the world in both cold and warm seawaters. Sea cucumbers are long and leathery, very muscular and their skin actually houses their spines. This armless sea creature has five double rows of feet with suction cups that aid them in crawling along the sea floor. Although this invertebrate does not have a brain, the sea cucumber deters its predators cleverly by regurgitating its internal organs. Considering the animal can grow the organs back, there is no harm done when using this defense mechanism.
Flatback Sea Turtles
An endangered species, the flatback sea turtle is indigenous to waters along the coast of Northern, Western and Eastern Australia. MarineBio.org reports that this species of sea turtle prefers "turbid, inshore waters" to clear, coastal waters. These sea turtles are called flatbacks because their olive gray shells are somewhat flat on top with upturned sides. Flatback sea turtles eat sea cucumbers, as well as squid, mollusks and soft coral.

Humans
Sea cucumbers are considered a delicacy in some cultures and, although sea cucumbers are harmless to humans, some humans choose to harm them. The University of Queensland's Reef Education Network web page reports that sea cucumbers can fetch up to $1 million per dried ton; consequently, the species is harvested excessively throughout the globe (up to 4,000 tons per year as of 2007 per the British Columbia Shellfish Growers Association) and considered endangered in many areas due to human demand for consumption.
Northern Bottlenose Whale
These mammals enjoy the icy waters of the North Atlantic down to Long Island Sound. Others migrate to the Cape Verde Islands near the West coast of Africa. Bottlenose whales feed much like the sperm whale. They dive as deep as 2,624 feet (800 meters) for as long as 70 minutes, according to MarineBio.org. While down in the depths of the ocean, the bottlenose whale feeds on sea cucumbers and other marine life such as squid, herring, cuttlefish and starfish.
Starfish
Starfish, also known as sea stars, are carnivores and feed on their fellow invertebrates the sea cucumber. National Geographic explains that these echinoderms come in about 2,000 different species and inhabit the oceans worldwide. Like the sea cucumber, some starfish prefer cold waters, while others seek a warm, tropical ocean climate. The sea star is also strictly a salt-water creature, living only the oceans and not in freshwater lakes, streams or ponds.