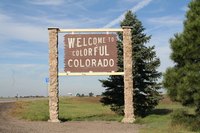 Colorado is a versatile state and an excellent vacation destination any time of year. From world-famous skiing to hiking, biking, sightseeing, kayaking and relaxing, Colorado has it all. There are many places in Colorado worth visiting year-round for those travelling with family members and children.
Denver
Denver offers all the attractions and things to do you would expect from a large U.S. city. There are museums, a variety of hotels (budget to luxury), restaurants, nightlife and art districts. Visitors to Denver can expect a mild climate during spring and fall, with colder weather and possibly snow in the winter and hot, dry summers. The Santa Fe Art District offers art walks most of the year, called \"First Fridays\" (occurring the first Friday of the month), during which visitors can browse local galleries, sip on cocktails, and grab a bite at any of the area restaurants. Downtown Denver is a bustling metropolis offering attractions like the Denver Mint, Children's Museum of Denver, Denver Botanic Gardens, Elitch Gardens theme park, and much more.
Denver hotels include:
Hotel Monaco Denver? 1717 Champa St. Denver, CO 80202 303-296-1717? monaco-denver.com
Curtis? 1405 Curtis St. Denver, CO 80202 303-571-0300? thecurtis.com
The Brown Palace Hotel and Spa? 321 17th St. Denver, CO 80202 303-297-3111? preferredhotels.com
Vail
Vail is most famous for its world class skiing, enjoyed by kids and adults alike. Vail ski areas accommodate skiers of all skill levels, and Vail mountain offers ski schools for both kids and adults. The mountain is open from November through April for skiing.
Vail offers much more than just skiing. Spring and summer months see Vail become a destination for all sorts of outdoor activities like hiking, biking, kayaking, or just relaxing in one of the luxurious hotels. As an added bonus, most hotels and restaurants offer significant discounts on rooms and services during off-season months.
Vail hotels include:
Vail Marriott Mountain Resort & Spa? 715 West Lionshead Circle Vail, CO 81657 970-476-4444? marriott.com
Lion Square Lodge & Conference Center? 660 West Lionshead Circle Vail, CO 81657-5295 970-476-2281? lionsquare.com
The Arrabelle at Vail Square 675 Lionshead Place Vail, CO 81657 970-754-7777? arrabelle.com
Boulder
Boulder is home to the University of Colorado, but it is much more than a college town. Like much of Colorado, Boulder is a very outdoor-friendly town, with dozens of hiking and biking trails accessible to anyone. There are also great dining options in Boulder, from world-renowned gourmet restaurants to corner bistros to take-out food. The Pearl Street mall is a fine warm weather activity for families, providing street entertainment, shopping, and dining on an outdoor, walking mall. Staying in Boulder gives you close proximity to several ski mountains during ski season as well.
Boulder hotels include:
Hotel Boulderado? 2115 13th St. Boulder, CO 80302-4801 303-442-4344? boulderado.com
Boulder University Inn? 1632 Broadway St. Boulder, CO 80302-6297 303-417-1700? boulderuniversityinn.com
St Julien Hotel & Spa? 900 Walnut St. Boulder, CO 80302 720-406-9696? stjulien.com