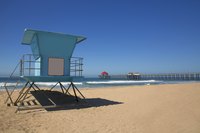 With its high-profile theme parks and action-packed beach towns, Orange County is a favorite Southern California destination for families. Arts and culture venues geared toward young visitors include museums, science centers and theater productions. Throw in beachside arcades, oceanfront roller skating, bonfire pits and pier fishing, and the fun never stops.
Water, Water Everywhere
With 42 miles of uninterrupted beaches south of Los Angeles, Orange County offers a virtual parade of water-based activities. Famous beach towns beckon with wide strips of sand, roller-skating, cycling and volleyball games. Beachfront shops peddle boogie board rentals, inline skates and beach toys. Huntington Beach features a world-famous pier lined with snack and ice cream stands as well as a bait-and-tackle shop offering fishing gear for small anglers to reel in sea bass and halibut. No fishing license is required. More than 500 free fire rings are available on a first-come, first-served basis. Farther south, Aliso Beach near the town of Laguna Beach is less crowded, with fire pits, picnic tables, playground equipment and rocky coves for tidepooling.
Theme Park Heaven
At the original Disney theme park in Anaheim, nostalgia runs deep and adults embrace the wonder of it right alongside the kids. Now known as Disneyland Resort, the complex includes the adjacent Disney California Adventure, with multi-day passes available for entrance to both attractions. Less than 30 minutes away in Buena Park, the Knotts Berry Farm theme park provides a slightly different ambiance than Disney, due to its origins as an agricultural berry farm once on the outskirts of developed cities. Now families get their thrills with dozens of elaborate rides, a ghost town and Camp Snoopy. The adjacent Knott's Soak City throws out hours of fun in its 13-acre water park.
Culture in Small Doses
Orange County spares no expense when it comes to embracing the arts, and kid-friendly venues cater to the attention spans and energy levels of young visitors. Bowers Kidseum engages active minds with archaeology adventures, art labs, tribal instruments and the chance to learn new languages. The Discovery Cube science center is big on interactive exhibits such as wildlife-rescue simulations, a dinosaur adventure, virtual volleyball and more than 100 hands-on activities. The Boeing Rocket Lab at Discovery Cube fosters an interest in science, rockets and engineering. A rock wall helps expend a bit of energy while the Shake Shack offers kids the chance to feel a simulated earthquake.
Parks and Fun Zones
Parents needing a break from the nonstop activity and related expenses of major attractions welcome the chance to spend a relaxing day at Orange County's public parks. Irvine Regional Park is chock-full of simple activities for young visitors, including pony rides, bike and paddle board rentals, horseshoes, and volleyball. The Irvine Park Railroad offers rides through the park on a 1/3-scale train, and the onsite 8-acre Orange Country Zoo features animals native to the southwestern United States. Also in Irvine, a giant ferris wheel and old-fashioned carousel dominate the grounds of the sprawling Irvine Spectrum Center, a shopping complex with a large movie theater, plenty of cafes and roaming entertainers to keep the experience lively.