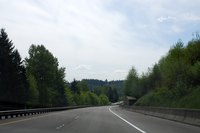 Christian Tours, also known as Burke Christian Tours, has become one of the largest motorcoach tour businesses on the east coast. Owned by Udean and Nancy Burke, it has been in operation since 1976 and offers not only motorcoach tours, but also fly, cruise and international vacations. Christian Tours offers an array of destinations ranging from one to fifteen day tours. Fully escorted, the tour director and driver will attend to every detail to make your trip comfortable and interesting. The company caters to Christians and conducts devotionals daily on the motorcoach. Sunday school lessons are taught on Sundays especially in transit. Some itineraries include worship services at a local church on Sundays.
Burke Christian Tours PO Box 890 Newton, NC 28658 800-476-3900 burkechristiantours.com
Motor Coach Tours
Whether you are interested in a one-day excursion to Charlotte, NC for a theater performance of a Broadway play, or you would like to explore the rocky coast of Maine, Christian Tours can provide the way. Their varied itineraries are bound to have a destination that suits your wanderlust. Several cities in North and South Carolina serve as pick up points to join the group. Leave the driving to Christian Tours in their new or late model Prevost wide body motorcoach.
Fly Tours
Fly to destination cities and take the motorcoach to see even more. Christian Tours offers locales in the western United States, the California coast, Alaska and the Canadian Rockies, and Hawaii, to name a few. For example, the Seattle to San Francisco tour takes to the air from the east to Seattle, tours the city for a couple of days and then boards the motorcoach for Portland and other points of interest along the way to San Francisco on its nine-day tour.
Cruise Tours
Spend anywhere from six to fifteen days on one of the cruise tours available from Christian Tours. After a flight to the port of call board the cruise ship and tour the Panama Canal, Bermuda, the inside passage of Alaska, St. Petersburg and the Baltics, the Greek Isles, the South American passage or others. Christian Tours offers full itineraries of each offering.
International Tours
If international travel is more to your liking, Christian Tours can accommodate. They offer Australia and New Zealand, Greece and Turkey, England, Ireland, Scotland and Wales, Italian Discovery, Israel and the Life of Jesus and more. These tours range from eight to twenty days in length. For additional information on individual trips, see the full itinerary from Christian Tours.
Specialty Tours
Christian Tours offers several categories of specialized tours including sports tours, which feature baseball in several stadiums, fishing in the great lakes and Nascar races in Bristol and Martinsville. Mystery tours include a singles 60s and over tour, a honeymoon tour, a grandparents/grandchildren tour and a reunion tour for former travelers. Christmas tours go to such destinations as the Ozark Mountains, Myrtle Beach, Opryland, New York City and the Biltmore Estate.