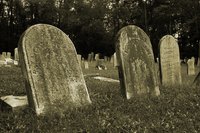 Salem, Massachusetts is steeped in history. The town is most famous for the 1692 Salem Witch Trials, in which 19 men and women were accused of witchery, as documented at the Salem Witch Museum. Other macabre attractions include Frankenstein's Laboratory and the 40 Whacks Museum, which chronicles the life of Lizzie Borden. Delve into the history of horror cinema at Count Orlok's Nightmare Gallery. Book early for a stay at a Salem haunted hotel during "Haunted Happenings," a month-long annual Halloween celebration.
The Inn on Washington Square
The Inn on Washington Square, centrally located on the historic Salem Common, was built in 1842. Close to the waterfront, this Greek Revival house offers three guest rooms and features heirloom and antique furnishings in addition to several ghosts.
Encounter Sarah, an heir to the estate who died in the house, or a funeral director and his horse-drawn hearse. According to a 2008 collaborated report from Spiritual Seekers of New England, the spiritual medium Robyne Marie made contact with "a full bodied apparition named Giocomo who laid the brick in the cellar" in addition to other apparitions. The Inn on Washington Square offers weekend tours for paranormal groups and investigators.
The Inn on Washington Square 53 Washington Square North Salem, MA 01970-4020 978-741-4997 washingtonsquareinn.com/
The Hawthorne Hotel
Named after famed author Nathaniel Hawthorne, this 1925 hotel has 93 guest rooms furnished with Federal-style reproductions in keeping with the architecture. Ghost stories abound at The Hawthorne Hotel. Bridget Bishop, the first to hang on Gallows Hill during the Witch Trials, owned an apple orchard on the hotel's site. On occasion, guests have commented that the hotel smells strongly of apples. Other incidents have been reported in Room 325: bathroom lights switch on and off, the toilet flushes and bathroom water runs on its own, in addition to strange sounds and a child crying. In October 2007, the television show "Ghost Hunters" featured The Hawthorne Hotel.
The Hawthorne Hotel 18 Washington Square Salem, MA 01970 (978) 744-4080 hawthornehotel.com
The Salem Inn
The Salem Inn, located in the heart of Salem, consists of three historic properties that have been restored and placed on the National Register of Historic Places: the 1834 Federal Captain West House, 1854 Italianate revival Curwen House, and the 1874 Colonial Peabody House. Period antiques and Victorian accents beautify the inn's 40 guest rooms and suites. Guests who have lodged in Room 17 in the Captain West House have allegedly witnessed an apparition of a woman. At times, guests sense her presence as she sits on the occupied bed. (see Reference 2) Other guests have been kept awake to the loud clamor and pounding on walls and ceiling throughout the night.
The Salem Inn 7 Summer St. Salem, MA 01970 978-741-0680 saleminnma.com