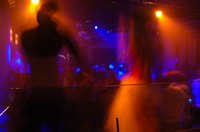 One of the best ways to shake off a stressful day is to go clubbing. Melbourne, Fla., has several dance clubs where patrons can get together with friends, listen to their favorite music, perhaps get a bite to eat, and dance to their hearts' content.
County Line Saloon
Located at the I-95 exchange on New Haven Avenue, County Line is a kickin' country music venue, having attracted quite a few big names over the years, such as Toby Keith, Lee Ann Womack, Trace Adkins, Jo Dee Messina and Neil McCoy. Don't let the lineup fool you, though. Many other types of music are represented at the County Line as well. This popular dance venue hosts Tuesday night Hospitality Night, when beer is a quarter, pool is free, and patrons can sing their hearts out, karaoke-style. Ladies' Night is on Thursdays, when ladies over 21 pay no cover charge. Live music and DJs keep this saloon jumping.
County Line Saloon 4650 W. New Haven Ave. Melbourne, FL 32904 321-726-0146 countylinefl.com
LevelZ
LevelZ is an upscale dance club with a $5 cover charge and a dress code. With three bars and 17,000 square feet of space, this club can accommodate more than 800 people. It features several types of music including hip-hop, R&B and Top 40. Thursday is Ladies' Night with $1 well drinks. Guest DJs come to the club on Fridays and Saturdays, with house DJs all other nights. LevelZ is available for parties and wedding receptions.
Levelz 4250 W New Haven Ave. West Melbourne, FL 32904 321-409-5385 levelznightclub.com
The Getaway Martini Lounge and Bar
The Getaway is a non-smoking, high-end nightclub in north Melbourne. It features both DJs and live music. Wednesdays are dedicated to the '50s and '60s music. Thursdays are Couples' Night. Texas Hold'em Tournaments are held every Tuesday. Two-for-one happy hour for mixed drinks is 5-7 p.m. every night.
The Getaway Martini Bar and Lounge 7720-110 North Wickham Road Melbourne, FL 32940 321-255-0052 getawaymartinibar.com
Off the Traxx
So named for its location next to the railroad tracks in downtown Melbourne, this club features food in addition to live and canned music. Smoking is not allowed inside, but patrons can smoke at the outside bar, called the Caboose. Monday is poker night and Wednesday is Ladies' Night.
Off the Traxx 918 E. New Haven Ave. Melbourne, FL 32901 321-327-2919 offthetraxx.com