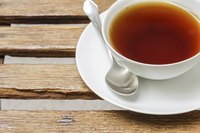 Gohyah tea is a Japanese tea made from bitter melon, also known as bitter gourd. As a vegetable, bitter gourd is eaten throughout much of Asia, and the tea made from the vegetable is a common drink around the world. Gohyah tea has a naturally astringent taste and contains antioxidants.
Antioxidant Rich
Bitter gourd is naturally high in vitamin C, thus this water-soluble vitamin is present in Gohyah tea. Vitamin C is a natural antioxidant, so it protects your body from the damage caused by free radicals and toxins such as cigarette smoke. As an antioxidant, it may help slow down the aging process, as well as reduce the risk of heart disease, arthritis and cancer.
How to Make It
Gohyah tea is made from thin slices of the bitter melon gourd, including the skin, that have been dried. To make the tea, use 1 tsp. of "leaves" or 1 teabag for every 8 ounces of boiling water. Let the leaves steep for 5 to 10 minutes before removing the leaves or the bag. You can drink the tea as is or add milk and some sweetener to tame the bitter taste.