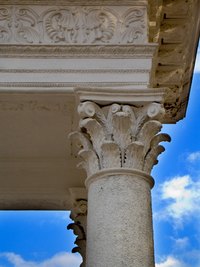 The United States is full of small art towns. Whether they boast an architectural tradition, host college students eager to exercise their creativity or have experienced an influx of artists due to the surrounding natural beauty, these towns are overflowing with artistic talent and pride. Although each has its own sense of self, these locales all stand as a paradigm for what an American art town can be.
Madrid, New Mexico
In what seems like the middle of the desert, you'll find this small enclave of artists who have restored many old homes along the main drag. The Madrid Merchants Association is a group of local artists who operate galleries and sell their wares on the streets of town. This funky community lies on the scenic Turquoise Trail in Santa Fe County.
New London, Connecticut
The Lyman Allyn Art Museum, free for residents of New London, displays American art from the 18th century to the present. Artists have flocked to this town, once better known as home to the U.S. Coast Guard Academy, and have taken up residence in many of the town's older buildings. An old rope factory, for example, is now a cooperative art gallery.
Marfa, Texas
Marfa, Texas, first gained national attention from the unexplainable phosphorescent lights seen from within the city limits -- orbs of light glowing in the desert, the source of which no one could understand. Nowadays, the Marfa Lights Festival is held every Labor Day Weekend, and visitors have the opportunity to scour the numerous art galleries that line the city streets.
Bellingham, Washington
Full of fine art galleries, visitors to Bellingham, Washington, enjoy perusing the creations of local artists between sips of a gourmet coffee drink prepared at one of the many independent coffee shops located in town. Bellingham boasts numerous museums, including the SPARK Museum of Electrical Invention, as well as theater guilds and antique stores.
Athens, Georgia
The indie music mecca of the Southeast, Athens offers a music scene that is consistently fresh and innovative compared to what is often found in other college towns. Musicians from larger cities, even those from nearby Atlanta, relocate to Athens to be part of a close-knit music community. The University of Georgia is adjacent to downtown, and the student population both nurtures the music scene and serves as its primary audience.
Nicknamed The Classic City, many older buildings in Athens stand as excellent examples of Greek Revival architecture in America. Among them are the President's House, home to the University of Georgia president, and several buildings on the University of Georgia campus.