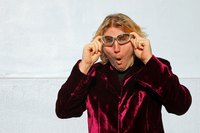 Looking for some off-beat things to do in Boston? You can experience something new, from food to fun, in some uncommon Boston attractions. Taste foreign cuisine in the ambiance of an ethnic restaurant. Treat yourself to something naughty or nice at a novelty sweet shop. Tour the world's worst art. Celebrate your inner superstar, and jump into a theatrical improve. Experience the unusual side of Boston.
To Taste: Tangierino
Experience Tangierino, the first and only Moroccan chop house. Taste authentic Moroccan cuisine prepared by award-winning chef Samad Naamad in what Boston Magazine rated the area's best romantic dining. Relax in the seductive ambiance of dim light and hypnotic music, complete with belly dance performances, for an all-round exciting experience.
Tangierino Restaurant 83 Main Street Charlestown, MA 02129 617-242-6009 tangierino.com

To Do: Improv Boston
Wield yourself into laughter of the unexpected at the Improv Boston. Catch the spontaneous creation of improvisational comedy, where stories, settings, song and dance are created on the spot with lively characters that pull the audience on stage to participate. Challenge yourself to laugh, think and feel in new and daring ways where the production has no rules.
Improv Boston 40 Prospect St. Cambridge, MA 02139 617-576-1253 improvboston.com

To See: Museum of Bad Art
Visit the Museum of Bad Art (MOBA), noted as "art too bad to be ignored," for a quirky look at the celebration of bad art in all its forms and glory. View collections that range from the work of talented artists gone awry to creations of crude execution by artists barely in control of the brush.
Museum of Bad Art Basement of Somerville Theater 55 Davis Square Somerville MA 781-444-6757 museumofbadart.org

To Buy: Sweet-N-Nasty
Treat yourself to something both naughty and nice at Sweet-N-Tasty, New England's exclusive creator of erotic cakes and sweets since 1975. See for yourself the little shop of treats that has been featured on The Good Day Show with comedian Rich Little, Single Living Magazine and The Improper Bostonian, among others.
Sweet-N-Nasty 90A Massachusetts Ave. Boston, MA 617-266-7171 sweet-n-nasty.com