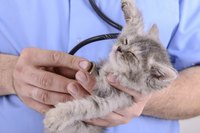 It's not uncommon for cats to throw up. It is uncommon for them to throw up blood, technically known as hematemesis. While blood in the vomit results from various causes, most of them are serious, possibly life-threatening. It doesn't matter how the blood appears -- fresh, clotted or digested. They're all veterinary emergencies.
Gastrointestinal Cancer
Vomiting blood can be a symptom of gastrointestinal cancer, with the blood coming from bleeding tumors in the intestinal tract. Felines are most likely to develop tumors in the small intestine, but lymphoma in the gastrointestinal tract is also common. Other symptoms include dark, tarry stools, along with appetite and weight loss. While hematemesis can indicate cancer in cats, it also occurs in more treatable conditions, such as stomach ulcers.
Clotting Issues
Cats suffering from hereditary clotting disorders, or coagulation factor deficiency, might vomit blood that has accumulated in the gastrointestinal tract. Other symptoms of cats with coagulation disorders include uncontrolled external bleeding, blood in the feces, vaginal or rectal bleeding, insatiable thirst and breathing difficulties.
Feline Poisoning
Throwing up blood could indicate your cat has consumed a poisonous substance. Rodenticides are often the culprit, whether your cat ate the poison directly or second hand by eating a poisoned mouse or rat. Signs appear a few days after exposure. Along with hematemesis, symptoms include seizures, staggering, coughing and weakness. If your cat swallows ibuprofen or another nonsteroidal anti-inflammatory, internal hemorrhaging and vomiting up blood could occur. A cat bitten by a poisonous snake might experience hematemesis.
Inflammatory Bowel Disease
Cats with inflammatory bowel disease usually exhibit vomiting and diarrhea, but blood in the former isn't uncommon. Other symptoms include flatulence, abdominal pain, weight loss, changes in eating habits and fluid in the abdomen. Because inflammatory bowel disease resembles other gastrointestinal disorders, your vet might have to go through a process of elimination to diagnose and treat your cat.
Other Causes
Physical trauma, such as getting hit by a car, can cause hematemesis. It's also possible that your cat swallowed blood from a nosebleed or mouth injury and threw up. If he swallowed a sharp object, any injury to his stomach could result in vomiting blood. A trip to your vet is always advised.