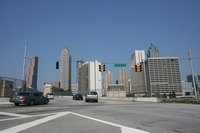 Dallas, Texas has one of the largest gay communities in the United States. Home to the Cathedral of Hope and the large LGBT church, the city's gay district is located primarily in the Oak Lawn area that's home to many gay restaurants, bars and clubs—most within walking distance of the neighborhood. Dallas also has a sizable array of bath houses for homosexual, bi-sexual and bi-curious men.
Club Babylon
A private venue for men only, Club Babylon is a social club that supports homosexual, bi-sexual and bi-curious males. Membership is required, and applicants must be homosexual or bisexual. The club is open four days a week—Thursday through Sunday. Members must be 18 years or older and possess a valid I.D. The establishment prohibits drugs and firearms on the premises as well as bags of any kind. The club, which is close to downtown Dallas on Harry Hines Boulevard, also prohibits cameras, camcorders and recording devices of any kind. Located in a small shopping center, the club hosts special events on many nights, including Trade Nights, Get Your Freak on Nights and All-Nude Strip Shows. Club amenities include free lockers, private rooms, a blackout room, special themed areas and an erotic video lounge. It also offers free parking with security.
Club Babylon 11311 Harry Hines Blvd., Suite 203 Dallas, TX 75229 972-247-0073 clubbabylondallas.com
Club Dallas
Always open 24 hours, Club Dallas is an establishment that caters to gay and bisexual men. The club's features include a steam room, whirlpool, heated pool, dry sauna and sun deck. The venue also features a full gym, free weights and cardio machines. Club Dallas has private dressing rooms, secured parking, free Wi-Fi Internet access, a vending area and a media room with surround sound.
Club Dallas 2616 Swiss Ave. Dallas, TX 75204 214-821-1990 the-club.com
Midtowne Spa
Midtowne Spa on Pacific Avenue in Dallas is a multi-level men's only club with lots of amenities. The venue has a workout room that features a Nautilus Time Machine, free weights and aerobic equipment. Members can relax in the spa's dry sauna, steam room or hot tub. Midtowne Spa offers a social lounge with single and double rooms off the lounge. The spa's third floor features another series of rooms, including fantasy rooms such as a Honeymoon Suite, a Mirrored Playpen and a Black Light Room. It also has a Leather Den and Jail Room for fantasies. The spa's rooftop offers a panoramic view of downtown Dallas and private sun tanning. Midtowne Spa offers pay-by-the minute adult movies as well.
Midtowne Spa 2509 Pacific Ave. Dallas, TX 75226 214-821-8989 midtowne.com