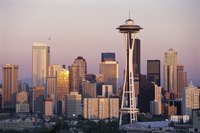 Seattle may be known as a place where rain-filled clouds hover above a skyline of glass and steel, but couples celebrating their anniversary can find cozy and romantic spots tucked away throughout the city. From landmark attractions to excursions off the beaten path, the Emerald City paints an ethereal setting for lovers, as the snow-capped Olympic Mountains reflect off the crystal blue waters of Puget Sound.
Green Space
Enjoy a peaceful stroll through Washington Park Arboretum, a 230-acre patch of green nestled along Lake Washington. Pause for a sweeping view of the gardens at the gazebo, lose yourself in a path lined with vibrant camellias and azaleas and soak up the sights of open meadows dotted with magnolias and oak trees. There's also a Japanese garden filled with waterfalls, stone bridges and ponds. Encompassing more than 530 acres of property, Discovery Park is Seattle's largest park. Embark on a quiet walk along 2 miles of Puget Sound's dune-covered beaches, see panoramic views of the water and surrounding mountains from atop sea cliffs or simply saunter through lush forests full of winding streams.
Great Views
Pay a visit to Seattle's iconic Space Needle, the 605-foot tower built when the city hosted the 1962 World's Fair. From Elliott Bay, to Mount Rainier, the observation deck offers 360-degree views of Seattle's surrounding natural wonders. For added romance, enjoy a gourmet meal and a glass of wine at Skycity Restaurant, perched some 500 feet above the city. Measuring 175-feet-tall, the Seattle Great Wheel is based at the edge of Pier 57. Set out on an adventure aboard one of the 41 eight-person gondolas or a four-person VIP gondola with leather seats, stereo system and glass-bottom floors. Illuminated at night, the glowing wheel has special light shows on some evenings throughout the year.
Luxurious Celebrations
Hotel 1000 is a luxury resort hotel in downtown Seattle, just steps from Elliott Bay. The hotel is home to Spaahh, a high-end spa that offers couples packages, complete with side-by-side massages, pedicures and foot treatments, as well as decadent desserts. The spa can customize your treatment, adding such perks as Champagne or cocktails to your experience. Indulge in fine wine with Seattle Urban Wineries, a group of 14 wineries in the heart of downtown Seattle, all within blocks of each other. Sample a variety of concoctions from some of Washington's famed vineyards in romantic dining spaces.
The Arts
Elegant movie-going experiences are on tap at Big Picture Movie Theater. Start your night with a trip to the lounge bar where you can enjoy a cocktail. Retreat to the theater and settle into the comfort of oversized leather recliners as you dine on gourmet treats and watch a movie. The theater is reserved exclusively for adults ages 21 and over. For a night of culture, make your way to McCaw Hall, located in the same complex as the Space Needle. The theater is the home of such prestigious residents as the Pacific Northwest Ballet and Seattle Opera. Catch one of the 100 ballets performed or one of the five operas produced at the venue each year.