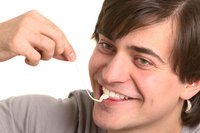 A quick glance down the checkout line at any grocery store will tell you how many options there are for sugar-free gum. These days people are watching their calories and opt for gum that is sugar-free and therefore calorie-free. However, the ingredients found in sugar-free gum are not well known. Though we don't swallow gum, its ingredients travel quickly through the body. It is wise to know what you are consuming when you chew sugar-free gum and the effect it has on your health.
Xylitol
Among the ingredients in sugar-free gum is Xylitol ('zi-le-tol). It is a natural sweetener found in plants, trees, fruits and vegetables. There are many benefits to this sweetener. Xylitol reduces cavities in those who chew sugar-free gum. This sweetener causes bacteria to lose its ability to sick to teeth. It also helps to reduce tooth decay. It reduces plaque that causes bad breath. Xylitol also aids in reducing ear infections. It is a healthy, natural sweetener used outside of sugar-free gum as well. Pregnant women use Xylitol when they have strep-throat bacteria, so it does not pass to the baby. Doctors recommend Xylitol for diabetics because it has no effect on blood sugar levels. Our bodies naturally produce up to 15 grams of Xylitol every day, so it is not foreign to the body.
Sorbitol
Sorbitol is a controversial sugar-alcohol ingredient found in sugar-free gum. It is a natural laxative from fruits like pears and prunes. Some research found Sorbitol to be the cause of a condition called irritable bowel syndrome. Because of its laxative effect, Sorbitol can cause diarrhea, bloating and stomach cramps. The small intestine does not digest Sorbitol, which causes those symptoms of irritable bowel syndrome. In fact, many packs of sugar-free gum have a warning about the laxative effects of consuming too much gum. Most people do not feel the effects of Sorbitol in moderation.
Aspartame
Aspartame is an artificial sweetener made from aspartic acid. It appears in sugar-free gum as a calorie-free sweetener. Aspartame was first authorized on the market in the United States in 1974. It does not only appear in sugar-free gum, but in drinks, desserts and sweets. The ingredient has come under scrutiny for years for being toxic, causing brain tumors, epileptic seizures, multiple sclerosis, Parkinson's disease, Alzheimer's disease and lupus. The debate is ongoing but the Food and Drug Administration Commissioner approved Aspartame stating, "Few compounds have withstood such detailed testing and repeated, close scrutiny, and the process through which aspartame has gone should provide the public with additional confidence of its safety."