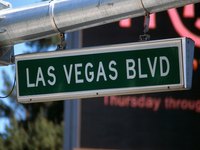 People usually go to Las Vegas for two reasons, for lavish nightlife or refined dining; and there's an abundance of both. Finding the best restaurants from among all the available choices can be a challenge. You can bet on one of these top restaurants in Las Vegas.
Joël Robuchon Restaurant
Joël Robuchon is a one-of-a-kind dining experience. French dishes are prepared by chef Joel Robuchon who has often been referred to as "chef of the century." The intimate dining room is located inside the MGM Grand. The limited seating offers a feeling of exclusivity. The16-course tasting menu is considered one of the best meals in Las Vegas. This dinner costs $360 per person, placing this restaurant as one of the most expensive in the city. There's also a bread and dessert cart featuring dozens of bite-size treats.
Joël Robuchon Restaurant 3799 S. Las Vegas Blvd La Vegas, NV 89109 702-891-7358 mgmgrand.com
Tao Asian Bistro
Head chef Sam Hazen prepares authentic Asian cuisine at one of Vegas' most popular venues. Though the décor is stunning, the food is just as impressive. To start, try the miso soup with tofu and mahogany clams. Dinner specialties include miso-glazed Chilean seabass and the Kobe beef with wasabi dipping sauce. Leave room for dessert; you don't want to miss Tao's signature giant fortune cookies filled with white chocolate and milk chocolate mousse.
Tao Asian Bistro 3355 S. Las Vegas Blvd Las Vegas, NV 89109 702-388-8338 taolasvegas.com
LAVO
From the creators of TAO, comes one of Vegas' newest additions, LAVO, located inside the Palazzo hotel. This Mediterranean bathhouse serves Italian, Spanish and French dishes prepared by Chef Ralph Scamardella. Popular appetizers are the baked clams oreganato and the Kobe-stuffed rice balls. The raw bar features fresh selections like yellowfin tuna and pink snapper. There's even an la carte selection of steaks that are USDA Prime, aged for 21 days. There are plenty of complementary sides to choose from.
LAVO 3325 Las Vegas Boulevard South Las Vegas, NV 89109 702-791-1818 palazzolasvegas.com/lavo
Rub BBQ
Rub BBQ at the Rio serves world-famous barbecue on the Vegas Strip. The original New York location already has a reputation for preparing some of the best barbecue in the country. You'll want to try executive chef Paul Kirk's specialty, the Taste of the Baron, which is Rub's most popular dish featuring beef, pork, ham, pastrami, turkey, sausage, chicken and a quarter rack of ribs. You can also expect traditional southern sides like baked beans and mac and cheese served in generous portions.
Rub BBQ 3700 W. Flamingo Rd. Las Vegas, NV 89103 702-777-7777 rubbbq.com
CUT
Celebrity chef Wolfgang Puck's CUT delivers what its name describes, rare cuts of meat. Previously opened in New York and Los Angeles, the restaurant has already been dubbed as one of the best steakhouses in America by critics. This location, inside the Palazzo, is best known for 35-day dry-aged steak. Other fine cuts of meat include the Prime Nebraska corn-fed dry-aged steak and the Japanese Wagyu beef with a variety of sauces to choose from to complement each dish.
CUT 3355 S. Las Vegas Blvd Las Vegas, NV 89109 702-607- 6300 wolfgangpuck.com/restaurants
Koi
Koi, is a popular sushi restaurant, opening its most recent location in Planet Hollywood Las Vegas. It's a celebrity favorite, not just for its swanky décor, but for its unique rolls and signature cocktails. The menu also features Asian inspired rice and noodle dishes. Koi's most popular appetizer is the ahi tuna laid on a bed of crispy rice, while the Baked Lobster Roll tops the list for favorite gourmet rolls.
Koi 3667 S. Las Vegas Blvd. Las Vegas, NV 89109 702-454-4555 koirestaurant.com
Burger Bar
When you're in the mood for a good burger, there's one place to visit, Burger Bar, at Mandalay Place. This is the place you come to for classic American burgers. Choose from a wide selection of meats including Angus, turkey, lamb, Kobe beef and buffalo. Pick one of the chef's specialty burgers on the menu, or customize a burger by choosing your meat, bun and toppings from an extensive list. There are also burgers for the health conscious, like the veggie burger or the low-carb burger.
Burger Bar 3950 Las Vegas Blvd S Las Vegas, NV 89119 702-632-9364
FIX
FIX offers a creative, modern twist on culinary classics. Located inside the Bellagio, FIX prepares unique presentations on burgers, tacos and sandwiches, in a neo-traditional style. Restaurant favorites include the sliders, lobster tacos, and oysters. Dishes are served a la carte and in tasting portions for easy sharing. The cocktails are just as creative as the dishes with one-of-a-kind drinks like the cucumber martini and the pomegranate martini.
FIX 3600 Las Vegas Blvd S Las Vegas, NV 89109 702-693-7111 bellagio.com/restaurants
Bartolotta Ristorante di Mare
Located inside the Wynn, is Bartolotta Ristorante di Mare, an impressive Italian restaurant run by award-winning chef Bartolotta. The restaurant presents guests with authentic Italian dishes featuring beef, lamb and fresh seafood flown daily from Italy. Enjoy the romantic dining room or the outdoor patio with scenic views. Don't skip on the "dolce" course featuring delectable desserts. Tasting menus are also available for large groups.
Bartolotta Ristorante di Mare 3131 Las Vegas Blvd S Las Vegas, NV 89109 702-770-9966 wynnlasvegas.com
Pamplemousse
Pamplemousse is a classic French restaurant off the Las Vegas Strip. Refined dishes like glazed Chilean seabass and roasted duck legs have earned this restaurant numerous awards and positive press by prominent media outlets such as Bon Appetit Magazine, Las Vegas Review Journal, Good Morning America and Zagat. Don't leave before indulging in some of the restaurant's sweet delicacies like the raspberry crème brulee or the chocolate mousse.
Pamplemousse 400 E Sahara Ave Las Vegas, NV 89104 702-733-2066 pamplemousserestaurant.com